Sino Logistics Corporation has modernized its brand image with the help of Lentus, who developed a new website for the company, characterized by a beautiful design and easy-to-use interfaces.
In the modern business environment, continuous and transparent business operations that can fully facilitate customers' needs are essential factors in consumers' decisions to purchase products and services. Therefore, a convenient, fast, accurate, and reliable communication channel is crucial for entrepreneurs. It can also add advantages to businesses as a platform to offer a comprehensive service and add credibility for the brand.
Preparing for business growth and achieving future goals, Sino Logistics Corporation, Thai's leading freight forwarder, has commissioned Lentus, an expert content developer and publisher of Logistics Manager (LM) magazine, to develop a new website for them. The website 'www.sinologistics.co.th' will showcase the brand and increase access to information for customers in Thailand and around the world.
Lentus leverages its expertise as a leading media creator in the logistics industry, proficiency in web design, and in-depth knowledge of digital content production to design modern, simplified, and functional web pages with options for more functions to be added in the future. With years of experience designing domestic and international websites for companies in the transport and logistics industry, both domestic and international, Lentus knows precisely how to design a website to suit customers' and entrepreneurs' needs.
In this issue of LM, we will walk you through the concept behind the website development for Sino Logistics Corporation and explore features on the revamped version of the website.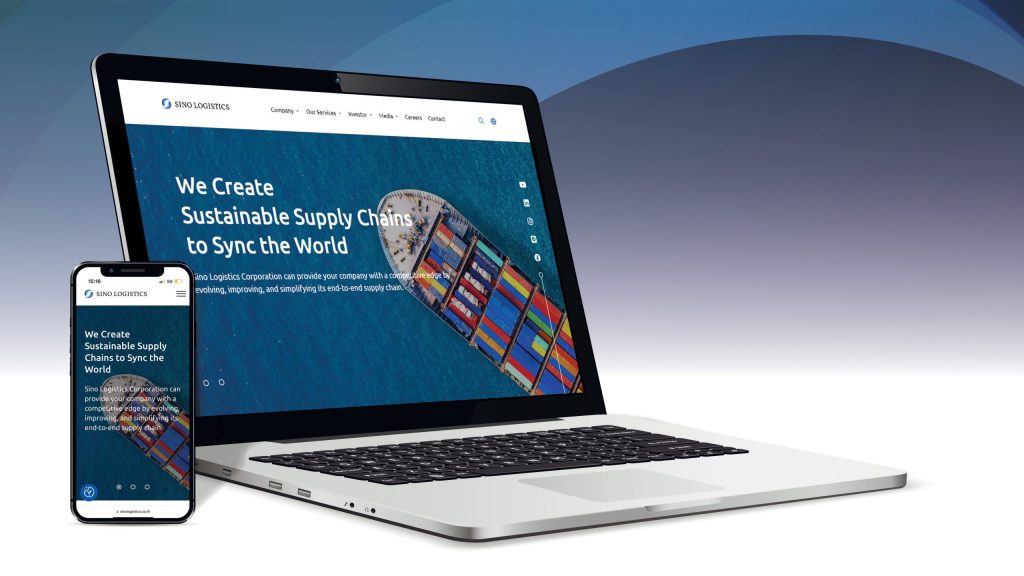 Behind the Scenes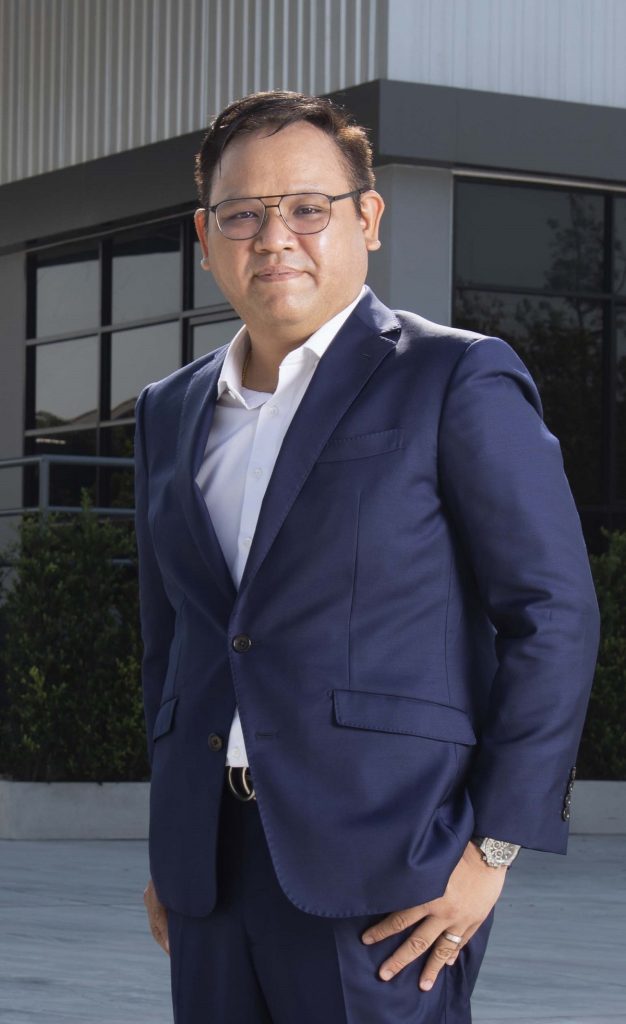 Mr. Nanmanus Witthayasakpan, Chief Executive Officer of Sino Logistics Corporation, revealed the ideas behind the website development project. "Our company recognizes the importance of having a good brand image in terms of operations and customer service, including creating the first impression for new and current customers who want to use our services or learn more about our company. We wanted a new website to serve as a first contact point for online customers to get to know the company. The site must be visually outstanding and modern and provide comprehensive functionality to meet the diverse needs of customers. It is also a part of the company's preparation plan to be listed on the Stock Exchange of Thailand shortly."
At the same time, Mr. Dwight Anthony Chiavetta, President of Lentus, explained the website development process. "Our website design team has been working closely with Sino Logistics, from planning information about the company and its services to preparing photography and graphic design work for the web interface to reflect a modern and global brand image of the company. As a result, the redesigned website offers a variety of convenient functions, whether it's a simple and efficient way to get a quote, an investor relations menu to prepare for listing in the stock market in the future, or a dedicated menu page for keeping track of corporate news and applying for jobs. This will not only meet the information needs of website users, but it is also a preparation for future business growth of Sino Logistics Corporation."
First Impression
The homepage is a very important part of a website. As the first page that appears when visiting a website, a well-designed homepage will attract visitors to continue using it. It also creates a good first impression for the brand. On the other hand, an unimpressive homepage may cause the user to leave the site.
Sino Logistics Corporation's homepage is simple yet beautiful and reflects the company's corporate values and operational goals. For ease of use, the menu bar at the top offers links to important information and functions.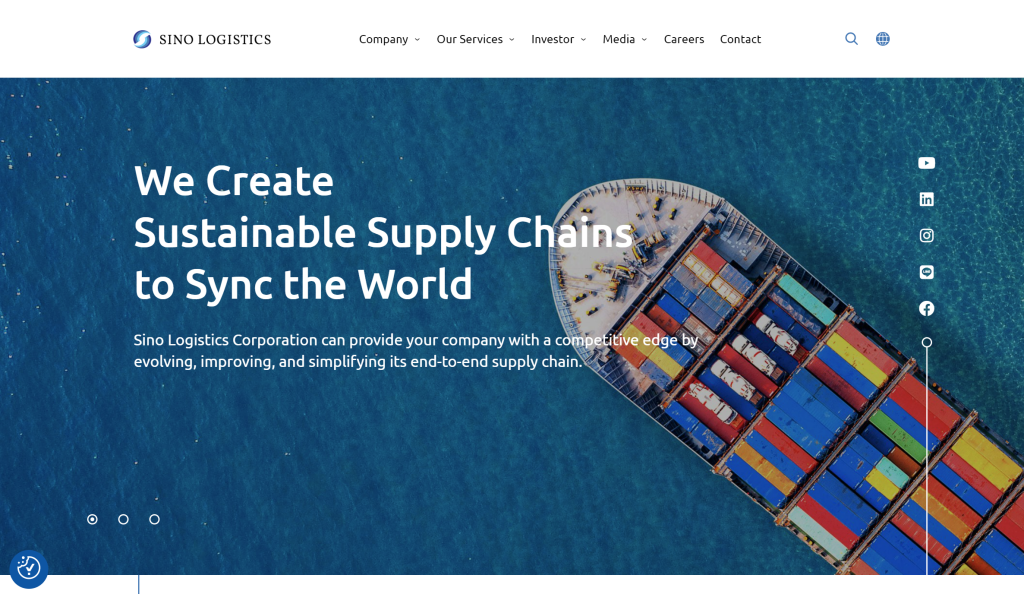 The first 'Company' menu offers general information about Sino Logistics Corporation, such as its corporate history, vision and mission, organization and business structure, list of Board of Directors and Executives, affiliate companies, along with corporate social responsibility goals.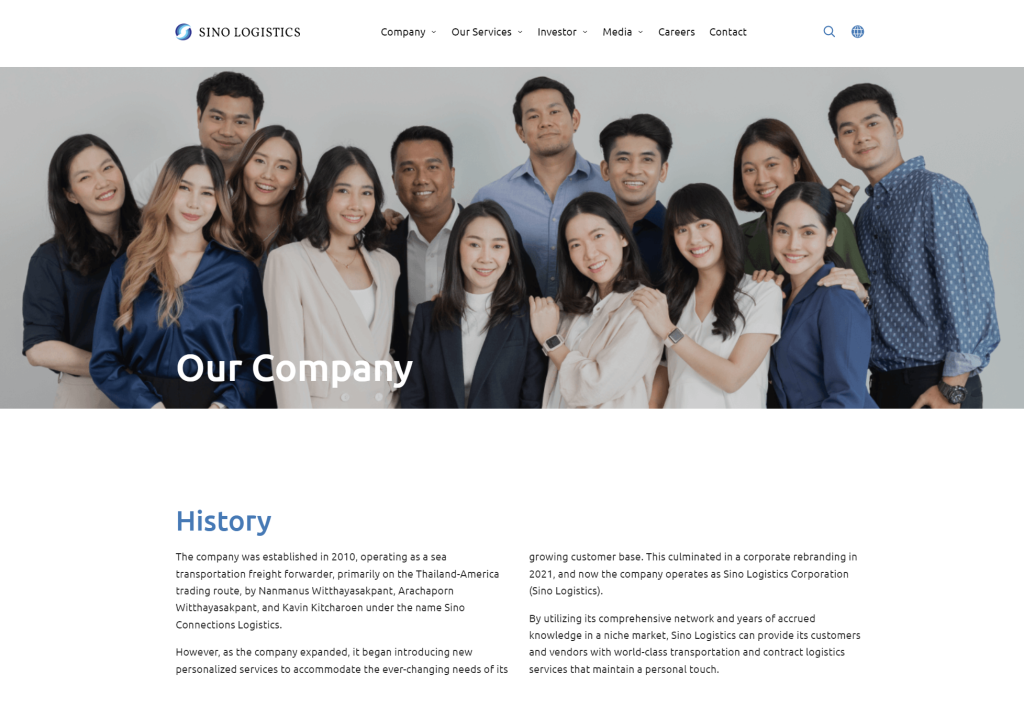 Next is the 'Services' menu. Within this menu, you will find information about all Sino Logistics Corporation services, including air, sea, and land freight forwarding solutions, warehousing and distribution, and other value-added services.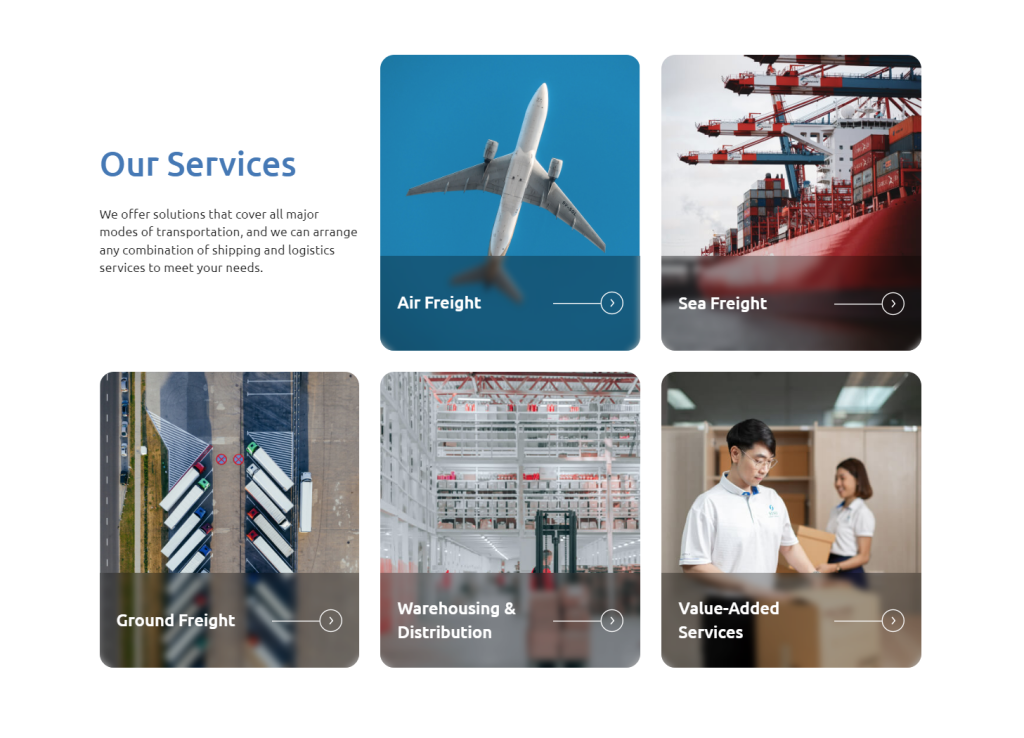 The 'Investor' menu includes two sub-menus: 'Investor' and 'Whistleblowing Form'. In preparing to be listed on the Stock Exchange of Thailand, this webpage offers updated information related to investment opportunities in the company's business. There is also a dedicated page for fraud whistleblowing forms, which has been prepared under the zero-tolerance policy against business malpractice and corruption in business operations.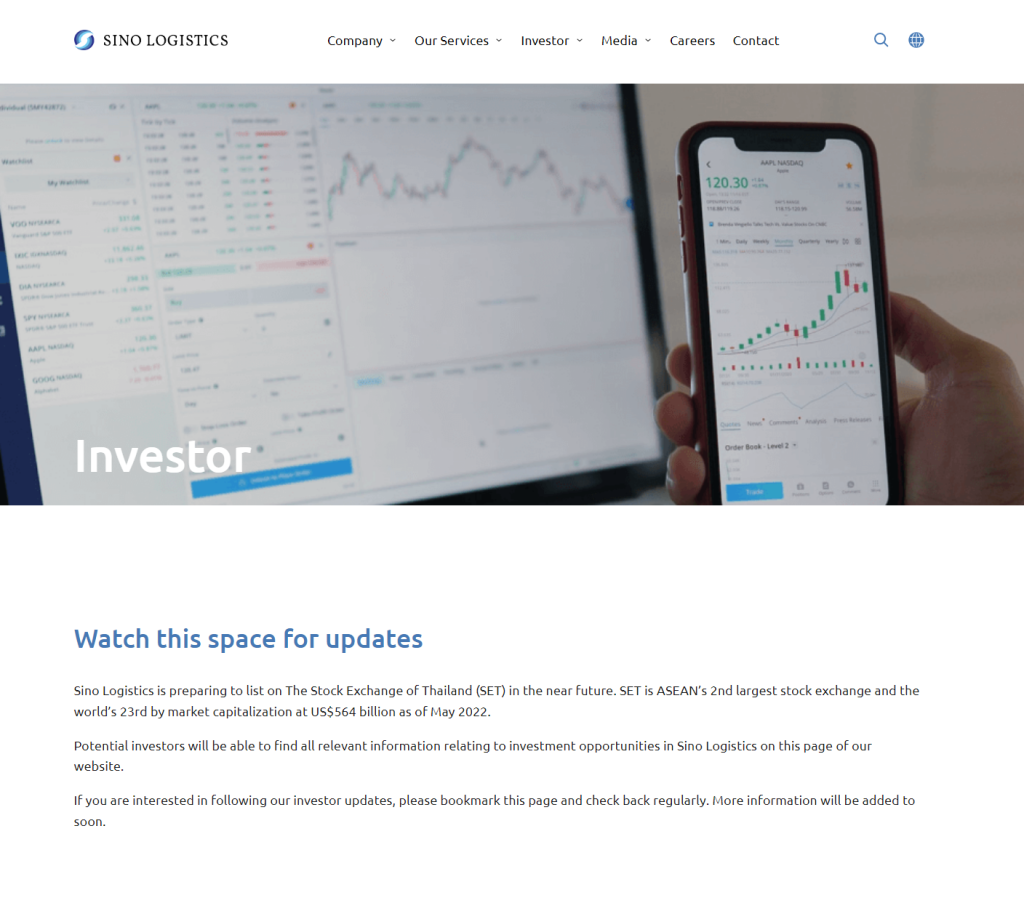 To follow the news or press releases from Sino Logistics Corporation, you can click on the 'Media' menu so that you will not miss the latest news or announcements from Sino Logistics Corporation.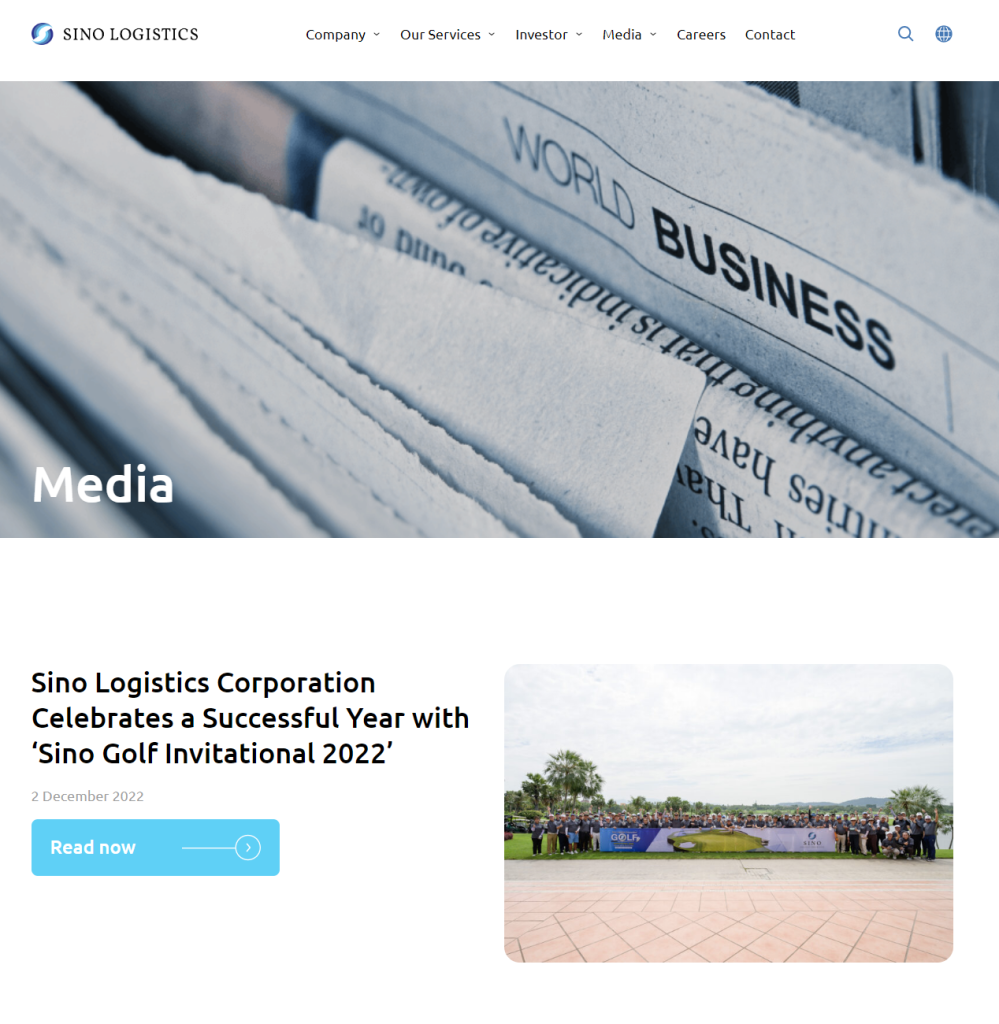 For those who are interested in working with Sino Logistics Corporation, the 'Career' menu provides information about job positions that are currently available. Qualifications and job details are described here on this page. The button 'Apply now' allows candidates to fill out the form and upload resumes directly to the HR department.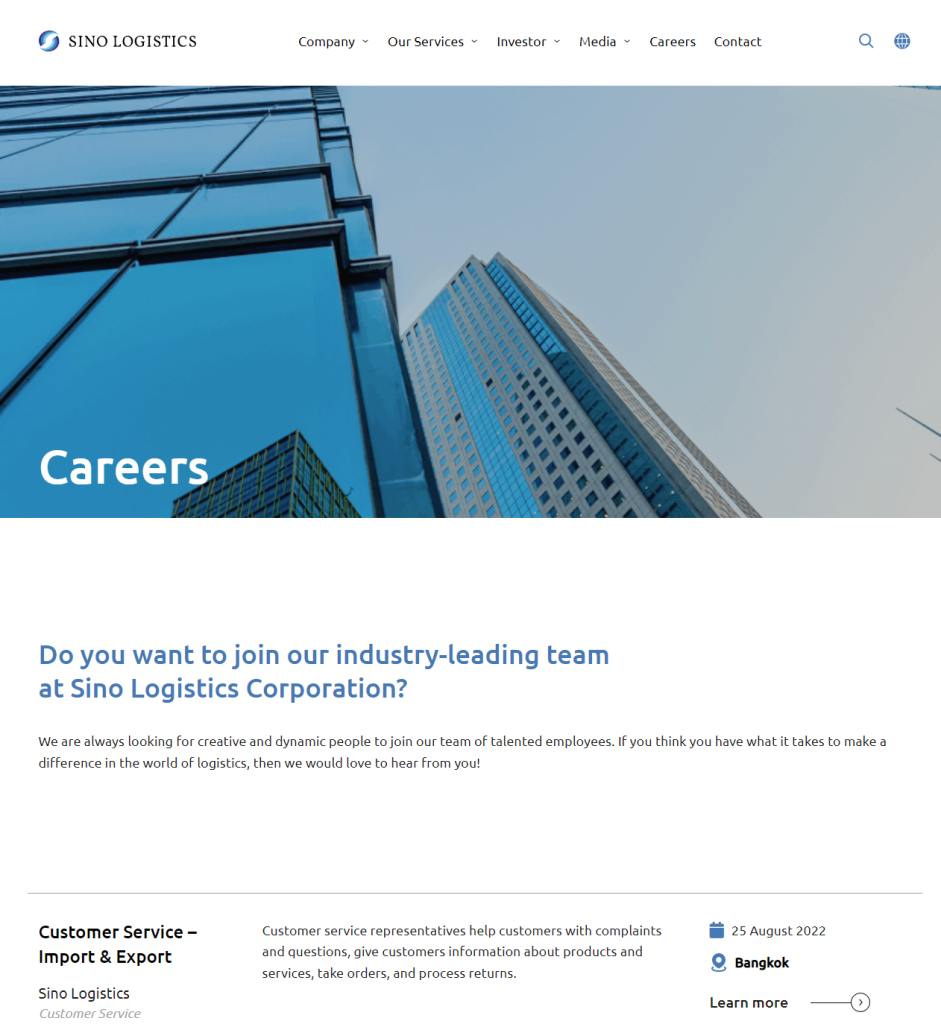 The 'Contact' menu allows users to fill out an inquiry form, request a quote, and get information about Sino Logistics Corporation's head office location and branch offices.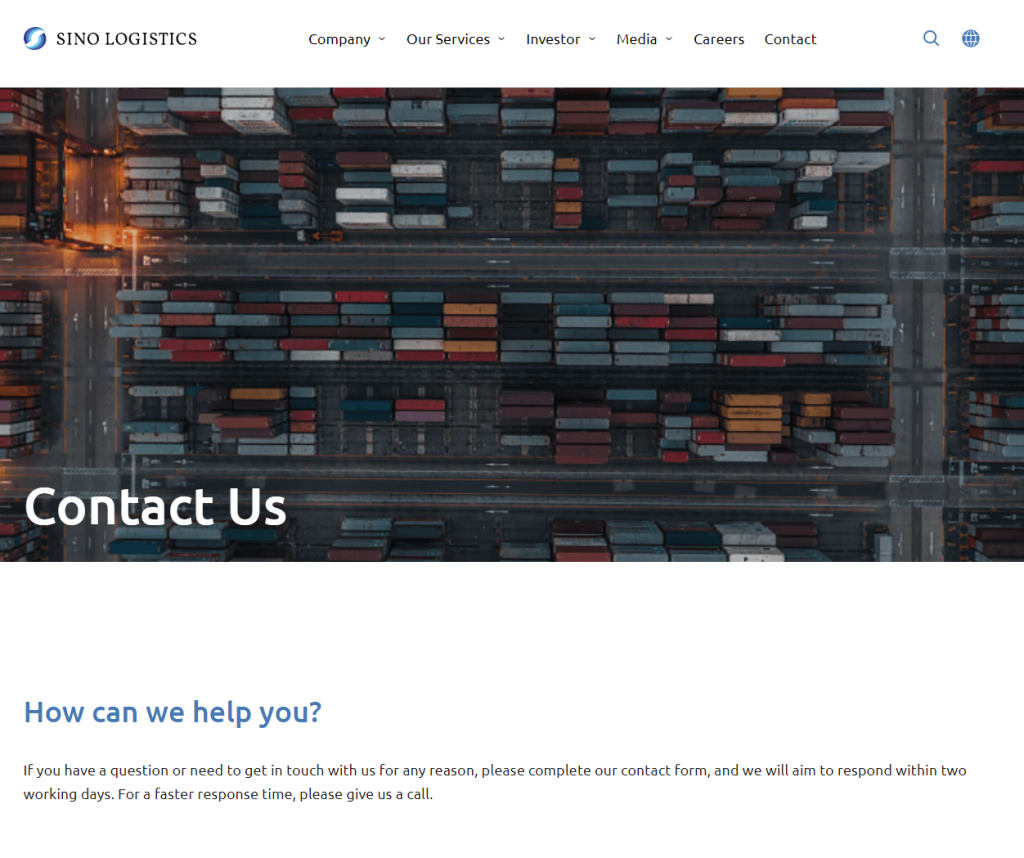 Fast and Easy Quotations
The new Sino Logistics Corporation website has been designed for convenience and ease of use. One of the main functions customers are always looking for in a logistics provider's website is a quick and straightforward way to get a quotation.
Sino Logistics Corporation's quote request feature comes with a simple, easy-to-use design. You can choose the type of service you want from the list of all services the company offers and fill in necessary details such as information about the product that needs to be transported, contact information, and other required data. Once you press the 'Submit' button, your message will be automatically sent to the relevant staff, who will get back to you as soon as they are available.
Customers can access the quote request form from the 'Contact Us' menu by clicking the 'Get a Quote' button under the query form on the same page. The form can also be accessed through different service pages by clicking on the button 'Get a quote' under the heading 'Speak to our experts'.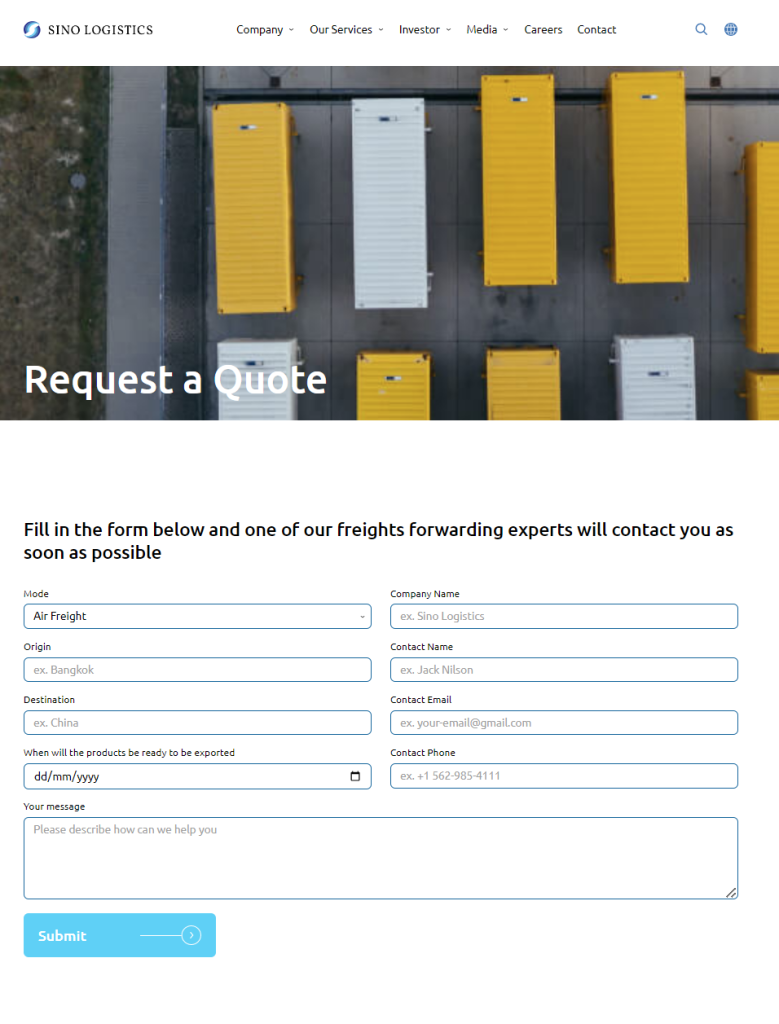 Optimized for All Devices
Today, internet access for customers and stakeholders is not only limited to desktop computers but also smart devices such as smartphones, tablets, and mobile computers. Sino Logistics Corporation recognizes the importance of responsive web design and developed a new website for customers and interested people to access conveniently and quickly no matter their device.
Sino Logistics Corporation lays a foundation for success with the launch of the new website to create an online image reflecting the company's operational goals in the real world. This upgrade is another means to prepare for the second decade of success of the company, following the rebranding to modernize the organization in 2021 and to become a leader in total logistics services both nationally and regionally.
Finally, Lentus is delighted to be entrusted by Sino Logistics Corporation to develop this beautiful and modern website. It is also an honor to play a part in driving brand awareness of Sino Logistics Corporation in both business and investment circles.
---
อัพเดตข่าวสารและบทความที่น่าสนใจในอุตสาหกรรมโลจิสติกส์ก่อนใคร ผ่าน Line Official Account @Logistics Mananger เพียงเพิ่มเราเป็นเพื่อน @Logistics Manager หรือคลิกที่นี่