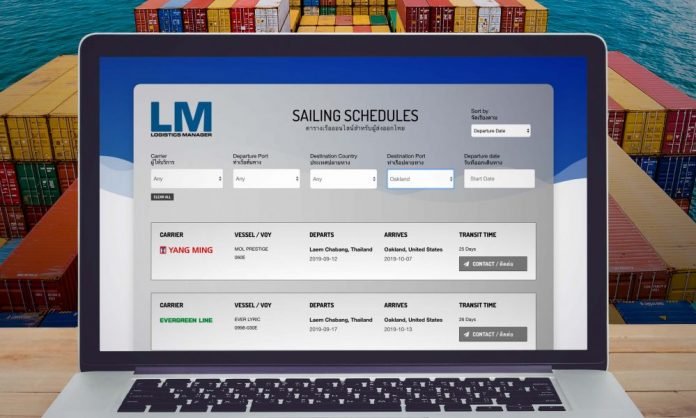 For readers of LM's print edition, you are probably well versed in the sailing schedules that are updated in each issue.
Well, we have big news for all shippers, manufacturers, ocean carriers, freight forwarders, and NVOCC's; we are now proudly offering online digital sailing schedules for free at https://schedules.logistics-manager.com/
This is a first for sailing schedules in Thailand, as users can now access this valuable information in any way they choose; be it in our print edition of LM, or on desktop and mobile. Our sailing schedules are localized and specialized for the Thai market and are for anyone doing business in Thailand. For a more in-depth guide, join us as we walk you through the new online system.
A New Age

To begin, the online sailing schedules have been designed around the modern idea of a "one-page" design. Meaning, that everything you need is available simply in a single page. To reach these schedules a convenient link has been placed in the menu bar of the LM website.
You can access our new online schedules via the LM homepage or directly with https://schedules.logistics-manager.com
Upon arriving at the home page of the sailing schedules, you'll be given a few different options for how you'd like to search for upcoming voyages. The options include searching by Carrier, Departure Port, Destination Country, Destination Port, and Departure Date.
As an example, say you were interested in looking at all the available voyages to the port of Kobe in Japan, you should select Kobe from the Destination Port menu, you'll be given all the available voyages currently in our system.
You can then further refine the search results by choosing specific Departure Ports, Carriers or Departure Dates.
You are not required to start with destination port though, you could for example start by destination country (or any of the other options). In this case, selecting Japan from the Desination Country dropdown menu would then allow you to see all the destination ports available within Japan as well as displaying all the voyages we currently have available in the system going to Japan.
Each time you make a selection from the menus, the results are updated and your search is further refined. You can use as many or as few of the menus as you need to get your result.
To make a completely new search, press the CLEAR ALL button to start fresh.
By default, the results are shown sorted by departure date, but you can change the sort order with the drop down menu in the top right-hand corner if you wish.
If one of the voyages interests you, clicking on the contact button brings up the contact form.

You can complete your details and submit the form to inform the carrier/freight forwarder of your interest and they can then contact you back to assist you further. That's it, you're finished.
If you want more in-depth details, check the FAQ on the next page or contact us at schedules@logistics-manager.com
Destination Port Advertising
As a special note, for freight forwarders we offer premium space for advertising your direct LCL and FCL services to specific ports. So, if a user of our online schedule searches for voyages to Aarhus this advertisement would appear. For more information on this, please contact orawan@logistics-manager.com or call +66 2 650 8690 ext. 501.

FAQ

Which carriers are available on the digital sailing schedules?
Carriers that advertises with LM magazine gets the same data online. If you don't see the carrier that you want, please tell us which one and tell them you want to see their information on our digital sailing schedules.
Do I need to register?
No, there is no need to register to use this service. We've made it free and open for anyone to use. The only information you would need to fill out is if you find a voyage you'd like to contact the carrier or freight forwarder about for more information. If you're just using this as a planning tool, there is no need to register or input any information.
Can I book online?
You will still need to contact the carrier to complete your booking as before. While we like to think we have the most accurate data for those in the Thai market, we should state that these schedules are a tool for planning and you still need to confirm space availability, vessel schedule and other details with the carrier, as all dates are estimated and on occasion schedules do change. However we hope this tool will make the process easier for you.
What happens if I fill out a contact form?
The system will send your request for more information to the carrier or freight forwarder by email and they will contact you back by email or phone to follow up and help you with your requirements. This is not a booking system. You must talk with the carrier or freight forwarder to complete a booking.
Is there only export data available?
Currently, we are only offering Thailand export data online. This is our first release of this new tool and we are implementing export data online first. We will plan to add new features in the near future.
How is this different than other online sailing schedule tools available on the market?
There are other schedules already on the market, including schedules carriers publish themselves, as well as other 3rd party programs that require payment or a login to track what you do. These are valid options as well for planning.
What makes LM's digital sailing schedules different is that they are specific to Thailand, while other services are global. Because we're local we're in touch with the local steamship lines. Meaning we're giving you up to date schedules. Our platform enables users with the ability to view multiple carriers' available voyages all in one place.
How can I contact you?
We've already received questions and feedback on the initial release of our new online sailing schedules, but we're happy to hear more from you to learn what we can do to improve the functionality. There is a link on front page of the online schedule to contact us. Please bookmark the site and let us know any feedback you may have.
อัพเดตข่าวสารและบทความที่น่าสนใจในอุตสาหกรรมโลจิสติกส์ก่อนใคร ผ่าน Line Official Account @Logistics Mananger เพียงเพิ่มเราเป็นเพื่อน @Logistics Manager หรือคลิกที่นี่