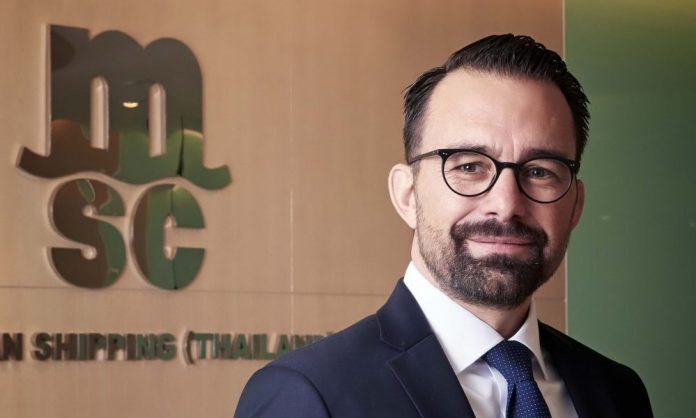 Starting any business brings with it inherent risks. Pushing past the fear of failure, those with courage that can put forth the effort and capital to build something new can be a rewarding experience, but it's not for the faint of heart.
Recognizing an opportunity was at hand, Mediterranean Shipping Company (MSC) began as a fledgling company in 1970, headquartered in Geneva, Switzerland. Its founder saw the potential in the emerging containerization movement for the shipping industry and decided to stake a claim. With a single vessel and a single service, the company steadily grew buying more vessels and bringing new services to the market.
Overtime, the company would continue to grow to the point where it is today as the second largest container line in terms of capacity, according to www.alphaliner.com. Most astonishingly, this feat was accomplished without any mergers or acquisitions, which is increasingly becoming all too common place throughout the shipping industry. By keeping the company private and family owned, MSC has never been beholden to shareholders, allowing them to plan for the long term and able to re-invest the money they make right back into the company.
Today, the family ran business has over 520 vessels operating in 200 trade lanes worldwide. With regional offices spanning over 155 countries, the carrier employees more than 70,000 people worldwide. To continue fueling the growth of the company, hiring and keeping dedicated and passionate employees is allowing MSC to thrive.
This same fire and passion were felt and on display when we recently sat down to speak with Mr. Peter Blohm, Managing Director at MSC Mediterranean Shipping (Thailand) Co., Ltd. His nearly two decades of dedication to the company is now being integrated into their Thailand office.
Continuous Growth
MSC Thailand was first established in 1997 and has since built their own dedicated office building in Bangkok to establish their footprint in the country and to highlight their commitment to the Thai market. Mr. Blohm is coming at an exciting time for the company as they are planning to open a new office at Laem Chabang by November this year that aims at servicing customers more directly at the deep seaport. A remodeling of their current office is planned for completion by the first quarter of next year as well. After seven months in his current position as MD for MSC in Thailand, we thought it prudent to learn more about his journey and how he grew throughout his time working for MSC.
He said, "I've been working for the MSC group for past 19 years. I started working for MSC in the southern part of Russia in Novorossiysk. MSC at that time was small and I was helping to set up new offices for them. We were building the network at that time, until one day the business took off and I was moved further into the organization to our office in St. Petersburg. I was then promoted to MD of our operations in Russia. At that time, we were growing double digits every year, and after a few years I was offered a job in Scandinavia which is a huge market but one where we needed further expansion in."
He continued, "After a few years growing our business there, I was asked to move to Panama. We had always been in Panama with our ships that were registered there and those that passed through the canal, but we were looking to develop a hub with the ability to transship cargo. Today, Panama is one of the most important hubs we have at MSC. After 10 years there it was time to try something else, and Thailand for me is a very interesting place because it has it all; deep sea terminals, inland depots, barge terminals, and at the same time we at MSC still have much room to grow in the country."
"Thailand is a big country with a big economy, but I would say in the past, as a growing company you take the low hanging fruit first and Thailand was relatively complicated to combine with our network. Now, there's a much more renewed interest in the country and we're actively making our products adaptable to the local market. We want to move ahead and do much more in Thailand."
Opportunities Abound
Throughout Mr. Blohm's career, he's found a key aspect to maintaining excellence is by hiring, training, and keeping exceptional employees. While the office in Thailand has already been accomplishing much of the goals they had set forth, Mr. Blohm was also adamant that there were still opportunities to be had and this sense of entrepreneurial spirit and dedicated attitude are they types of traits he wants emanating from the organization.
He said, "I very much see that MSC and Thailand go well together hand-in-hand. From what I've learned, people here like coming to an office and feeling they're a part of something. That is exactly where I feel MSC excels. Part of it has to do with being a privately-owned entity and the family type atmosphere that we instill in the company."
While this is Mr. Blohm's first time managing in Asia he doesn't see it as a big difference from the other offices he's worked in around the world. "While there are always cultural differences, generally what I see is not so different from one part of the world to another. People want to understand where you're going and want to see that they're working for a company that has a vision of where they are going. I think this is universal, and people want to understand that they are part of something bigger. One of the things in Thailand that we have not maybe been great at explaining before is how great of a company MSC is to work for. The company was built upon solid foundation and everything we do at MSC is for the long run."
To that end, the company is also taking great strides to attempt to simplify their business. Mr. Blohm said, "We have been changing procedures on how we do things in order to try to make things as simple as possible. This complication conundrum is a universal problem in the shipping business. Really, what we do is super simple, but I see frustration in the industry that has been built up making things so complicated. We're trying to make things very simple not only for our clients, but I think first of all for our employees. If you have happy employees, you can be sure your clients will be happy."
Mr. Blohm's career path has taken him through many different countries and operations. Being a Danish national, he works for a Swiss company, and was given the chance to work in Russia, Sweden, Panama, and now Thailand. He has experienced firsthand the opportunities that a company like MSC gives to capable and passionate employees.
When asked about his career path and if similar avenues were still open, he said, "As a company we're still growing significantly. People that have the right dedication, the right skills, and who want to do this, we can always find something for them. We've had people who came in as an apprentice for this company and worked their way up and are now in leading positions; anything is possible. We want to have people in the organization that are ready and able to take the reins. You need to be able to questions what's working and what isn't and adjust accordingly. Working with MSC they give you a huge amount of freedom to fix things in a local environment you're working in to make sure it's done right. Every country has different issues, there's always things that we can fix that the head office gives us a level of freedom to solve. We're all working towards the same goal and the future is looking bright for us in Thailand."
อัพเดตข่าวสารและบทความที่น่าสนใจในอุตสาหกรรมโลจิสติกส์ก่อนใคร ผ่าน Line Official Account @Logistics Mananger เพียงเพิ่มเราเป็นเพื่อน @Logistics Manager หรือคลิกที่นี่