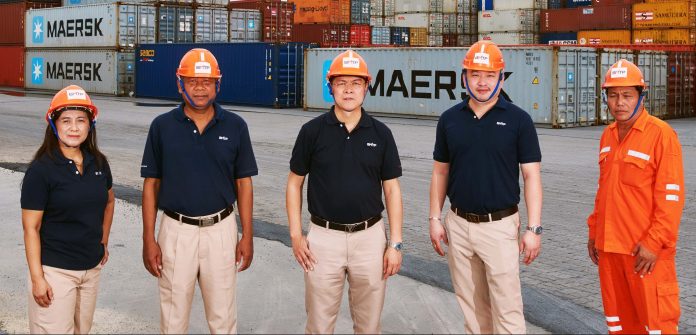 Amidst the waves of constant swirling changes throughout the industry over the past few decades, BMTP port has continued growing, steadily evolving with top quality operations and a determination to elevate their standards to offer outstanding services.
Not far from the heart of Bangkok sits the port of BMT PACIFIC LTD (BMTP) at Phra Samut Chedi district, Samut Prakan. The port was established in a prime location near outer ring road and can be easily accessed from Bangkok and nearby provinces and is a joint venture between PIL Enterprise and Eastern Maritime. They offer services to top tier ocean carriers including Samudera, OOCL, COSCO, ONE, CMA/APL, Hyundai and Maersk Line. BMTP is equipped with an operational space measuring 140 acres and a multi-purpose berth length of 315 meters which is capable of berthing two 155 meters long ships at the same time.
With over 30 years of experience, BMTP has a range of highly skilled staff at their disposal. The organization marches on with unity and quality. The port strictly operates on schedule and are ready to serve with their advanced technology and high-quality equipment.
To learn more, we were given an opportunity to speak with Mr. Rangsant Tonchanachai, General Manager BMTP regarding the port's development, operation methods, cutting-edge technologies, all around services, visionary management and qualities that have thrusted BMTP into the spotlight.
More Than Just a Port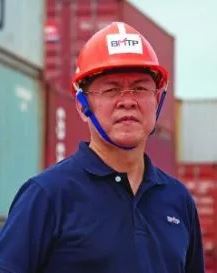 Over three decades of experience has BMTP providing all around services, such as warehousing with over 14,000 square meters of space with a container yard capable of accommodating 230 TEUs per day. BMTP has specialized staff who can supervise dangerous goods in a highly secured warehouse, along with other services such as fleet of over 45 trucks and a customs clearance service.
"I have over 20 years of experiences in the ocean carrier business, and it enables me to give a proper advice and solutions to customers," said Mr. Tonchanachai who was once a customer of the industry but is now on the other side as a service provider. "Berth time is another aspect of the ocean carrier business that we have a deep understanding of. Ports need to be prepared and ready for a ship's arrival, enabling them to continue with their next call on schedule. We are determined to offer harmonized services between importers, exporters and ocean carriers."
Only 25 kilometers from central Bangkok, BMTP is continuing to invest in improving their efficiency on both the sea and on the land. At present, the port is capable of handling over 40 moves per hour by two mobile cranes. In addition, the port is ready to provide services upon a ship's arrival to ensure they operate on schedule.
"Presently, terminal efficiency is pivotal to ocean carriers and we have increased our efficiency for ships to berth on schedule to reduce operational costs and to help cut down ocean carriers main expense, burning fuel," said Mr. Somchai Klinkiaw, Terminal Manager.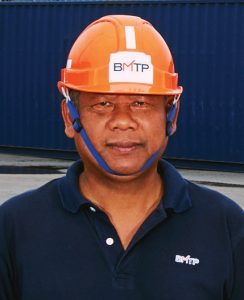 Mr. Klinkiaw also added, "We have improved our terminal efficiency to have quickest turnaround times. The tide table is crucial to berthing. In an event the loading/offloading is not completed in time, we need to wait for another table which is a wasted attempt. Therefore, we have elevated the container service capacity above 40 moves per hour and we are planning to elevate it further in the near future."
Mr. Tonchanachai explained that the market is diverse with customers from various regions and different demands. For instance, ocean carriers are operating with very large container vessel, which in turn also places a strain on terminals that are able to service them. For this issue, BMTP is able to close the gap by having large vessels berth at large terminals such as in Singapore and focus more on feeders at BMTP. Medium large-sized vessels could berth at Laem Chabang Port and also transit to feeders to BMTP as well. For vessels smaller than Bangkok's Max size with short routes, they can directly call at BMTP to circumvent the cost of transporting containers to Laem Chabang and save time waiting for a berth, which in turn also reduces pollution.
Aside from recognizing the importance of transportation via water which helps to alleviate traffic on the land and saving the government budget on road repair and re-construction. BMTP is also recognizing the importance of the skill within their work force. With the port holding annual training to educate its drivers on safety, along with internal and external alcohol testing to reduce accidents.
Services for the Future
BMTP has advanced container management with in-house software developed to synchronize with its equipment, such as RTG cranes which have software capable of managing container locations.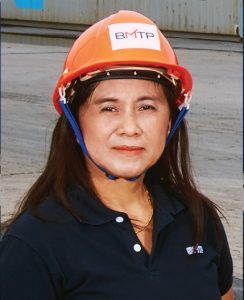 "We have our own operational program development team, which is one of our strengths. We can support all of our customer's demands because we are using in-house developed programs designed especially for us. After purchasing modern devices for the port, we have developed a program to harmonize with each device to support as much of customers' requirements as possible," said Ms. Pornpimol Pasuratera, IT Manager.
The latest software in their operation is the RTG operational program which enables the user to control the device via a tablet from the office or on the gantry in real time. Along with Mobile Tracking system installed on every truck at the port, this allows the user to examine the container's data thoroughly, from the container type, location and pick up and drop off location.
BMTP's never ending evolution has pushed them to develop a new engineering department with fully advanced spare parts as well as experienced staff who are ready for challenges around-the-clock operation. "This department is fully prepared with spare parts to support our equipment, such as the quay crane, reach stackers, and both conventional and electric forklifts. This equipment needs to always be ready for work," remarked Mr. Tonchanachai.
"Over the past month we purchased spare parts for cranes, totaling over 3 million baht in value, to ensure our customers that our equipment is ready to function at all times. Moreover, we have exclusively selected high-quality equipment and spare parts, for instance: Liebherr's mobile crane from Germany and Kalmar's RTG from Sweden," said Mr. Tonchanachai.
Together as One
The unity and experience in providing services for 30 years is a defining feature for BMTP. "We would like people and machines to work in synch. I love the spirit of Total Football Team where every player has their own positions but are ready to shift and play in every position in order to attain victory. Offense players are willing to play defense and defense players are willing to play center to drive the maximum capacity of the team. Similarly, we also have visionary shareholders who are financially supporting us to become a full-service port operator."
Mr. Tonchanachai also unveiled plans for BMTP's future. "We are planning to purchase more high-quality cranes and other machines to increase our operational capacity. We also plan to implement an X-Ray machine and expand our barge fleet to meet customer demand. Furthermore, we are looking to expand the property, which has potential to grow more than 50-60 percent."
These plans are the fuel that drives the organization to its goal, to become a total solutions provider who is capable of offering a wide range of services to every customer. In doing so, the Port will become larger piece of the puzzle in Thailand's logistics industry.
The port's location benefits BMTP to provide services in a wider area. Customers in Bangkok or other provinces can easily access the port via the outer ring road without having to go through crowded traffic in the city and avoid the time limitation of driving trailer trucks in a city. "We are very close to the outer ring road which is easy to access and the new ring road that is under construction," Mr. Tonchanachai said.
With a forward-facing visionary, family-like organization management along with an easily accessible prime location allows BMTP to closely provide all around services to its customers and strongly march into future with arms open.
อัพเดตข่าวสารและบทความที่น่าสนใจในอุตสาหกรรมโลจิสติกส์ก่อนใคร ผ่าน Line Official Account @Logistics Mananger เพียงเพิ่มเราเป็นเพื่อน @Logistics Manager หรือคลิกที่นี่