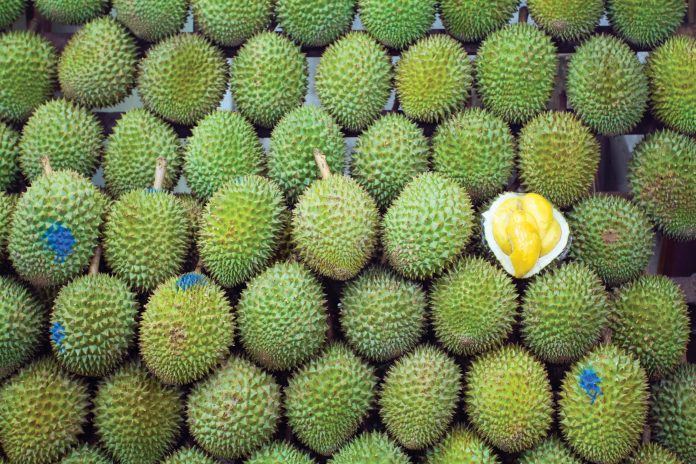 When shopping for fresh fruit, apart from flavor, the appearance and freshness are amongst the most important key buying factors. Both importers and exporters must entrust their valued products to transport service providers with experience and a specialization in the handling of fresh fruits. Each type of fresh fruit has its own special characteristics and requires different methods to handle and transport under different temperature restrictions. Durian, specifically, is one unique type of fruit with a high exothermic reaction and requires special care and handling.
Regarded as the "king of fruit," Durian has an unmistakable aroma, favored by both Thais and some foreigners. Thailand is globally one of the biggest growers and exporters of this fruit according to the Thai Ministry of Commerce. The country exported over 120,000 tons of Durian in April 2018 alone, with over US$ 22 billion in value.
The increasing year on year export volumes of durian is driving more ocean carriers into the trade of bringing the fruit to destinations around the globe, all the while preserving its quality. To learn more, we spoke with expert service providers in fresh fruit sea freight to share their insights and tricks of the trade in shipping fresh durian via sea freight, including Mr. Teeradet Munchai, Operations Manager Heung-A Shipping (Thailand); and Mr. Anucha Maithongkham, Area Sales Manager of Sealand – A Maersk Company Thailand.
Handling Durian
Internal temperature control of a reefer is at the heart of shipping fresh fruit via sea freight, to preserve the quality of the fruit until delivery to the consignees and finally to the end consumer. "Fresh fruits generally stay fresh for a maximum of 20 days. For this reason, shipments from Thailand are generally transported within Intra-Asia routes. For general fresh fruit and vegetables, the temperature is controlled between 2-15 degree Celsius, depending on the variety," said Mr. Munchai.
Shipping durian via sea freight is on average more complicated compared to other fruits. Durian is unique because of its high exothermic reaction. Transportation of durian requires the reefer container to have good ventilation. The temperature is set at 13-15 degree Celsius and the ventilator mode is set to 15 – 20% to release the heat from inside the reefer to the outside.
Preparing Reefers
As mentioned, the reefer is the most important piece of equipment when it comes to preserving the freshness and quality of fruit transported by sea freight. As durian season approaches, ocean carriers specialized in shipping durian have to ensure the availability of their reefer fleet to accommodate export demand.
Mr. Maithongkham said, "The demand for durian shipping rises steeply in the summer, ocean carriers need to ready their reefers and ensure they have enough to accommodate customer demand. When transporting high exothermic reaction fruits such as durian and longan, shipping lines will need to ready the reefer for pre-loading. The temperature should always be set to the optimum level before putting the cargo into the container. The Operation Equipment team is responsible for the preparedness of the reefer, including Pre-Trip Inspection that must be done before delivering the reefer to the shippers – ready to load. We have developed a Remote Container Management (RCM) service to add real-time tracking and temperature monitoring function to the shipment. Data is collected and transmitted via satellite communication. Customers can also back-track the data for post-delivery inspection."
Regarding ocean carrier reefer management, Mr. Munchai said: "We continually invest in sourcing modern and effective reefers to replace outdated ones to support the increasing volume of fresh fruit transportation. Customers are ensured that our reefers are up to the tasks and will not cause any damages to the cargo in transit. Our specialized team also has a protocol to inspect the temperature in 6-hour intervals. In any case of temperature fluctuation, the clients will be informed firsthand."
Improving Services
When transporting fresh fruit, the most important factor to consider is the freshness of the cargo. Apart from the efficiency of the reefers, ocean transport providers have to also improve other services including necessary tools and equipment, fast and competitive service routes, and transit times.
"Several improvements have been developed by ocean carriers to better serve the fresh fruit exporters. Services and routes are improving by cutting down the transit time, increasing the service frequency, and increasing the vessel sizes. We are also developing land transportation as affiliate services including tractor trucks and cross-border services to fulfill customer needs for complete transportation services," said Mr. Maithongkham. "Shipping lines have also developed and adopted digital technology, both as online platforms and mobile applications to be able to better serve their customers on a 24/7 basis."
With the bright outlook of Thailand's durian sea freight exports, shipping lines are actively seeking to develop better services and practices in response to changing market demands. Modern and more effective reefers are already being sourced, and cutting-edge technologies are being adopted to maximize the competitive edge to ultimately ensure the capability of Thailand's fresh fruit exports.
อัพเดตข่าวสารและบทความที่น่าสนใจในอุตสาหกรรมโลจิสติกส์ก่อนใคร ผ่าน Line Official Account @Logistics Mananger เพียงเพิ่มเราเป็นเพื่อน @Logistics Manager หรือคลิกที่นี่