To support the logistics and transportation needs of various business sizes, Toll offers high-end solutions by combining the strengths of its global service network with local-market insights and the expertise of its management.
With over 130 years of experience, Toll Group is committed to delivering premium end-to-end logistics, transportation, and supply chain solutions, supported by its specialized teams of professionals and comprehensive global network. In Thailand, Toll supports its customers by offering integrated and efficient logistics and forwarding services.
LM spoke with two Toll Group leads in Thailand, Ms. Kanyarad Julhiran and Mr. Dhanapol Dhanasupsomboon, who revealed the service approach and business goals of Toll Group in the Thai market.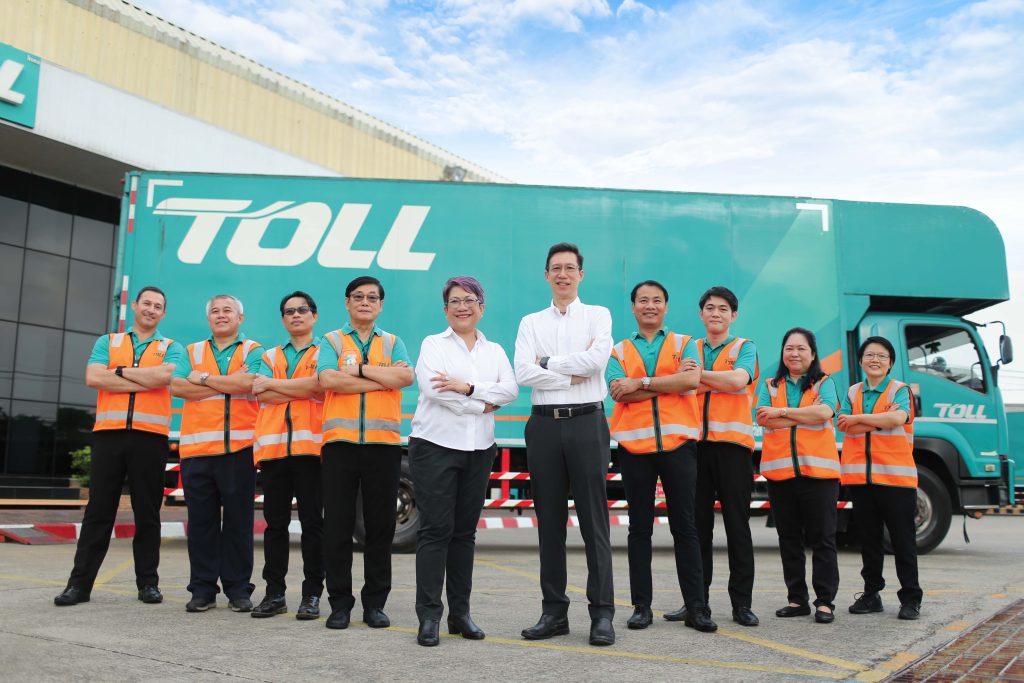 Expertise. Experience. Passion.
Originally established in 1888 in Australia, the dual headquartered company has grown into one of the world's leading supply chain service providers. Today, Toll is proudly part of Japan Post, supporting more than 20,000 customers worldwide with 500 sites in 25 markets, and a forwarding network spanning more than 150 countries, moving the businesses that move the world. Toll offers a diverse range of freight forwarding and logistics services, covering air, sea, and land transportation, warehousing services, supply chain management, customs brokerage, etc.
In servicing its Thai customer base, Toll offers innovative solutions that solve supply chain challenges of businesses both big and small. Its teams of passionate people meet the needs of customers' niche markets in a way that adds value to their supply chains and creates lasting partnerships.
Worldwide Connection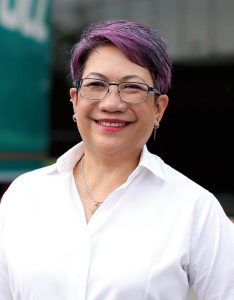 In Thailand, Toll's forwarding services are led by Ms. Kanyarad Julhiran, whose 30 years of experience in the industry allow her to lead a team of more than 50 specialists expertly. With the main forwarding office in the heart of Bangkok, and other offices in strategic locations like Laem Chabang, the team can coordinate with customers easily, connecting them via Toll's global network. Toll's freight forwarding services comprise document process management, customs brokerage, and transportation handling—including sea, land, air, domestic, cross-border, and international.
"Toll's operations are customer-driven, so customer service is one of the focuses of our work. Our sales and customer service teams work in tandem to fully understand our customers' needs, so we can accurately and thoroughly support their businesses. There's close collaboration among our network around the world to ensure our customers' needs are met as efficiently as possible," said Ms. Kanyarad.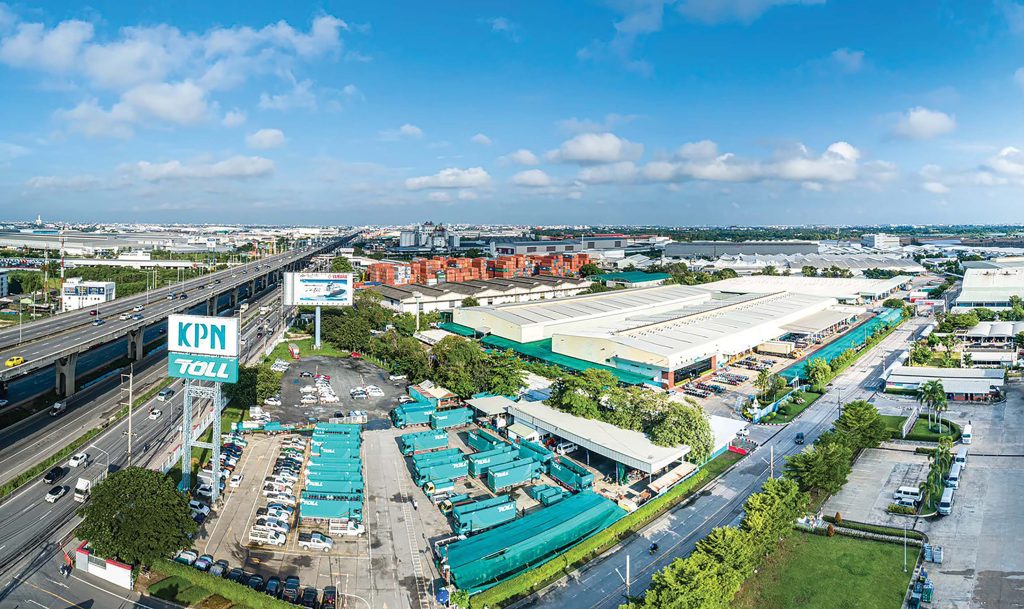 World-Class Logistics Solutions
Additionally, Toll's logistics business provides diverse, end-to-end logistics solutions under the leadership of Mr. Dhanapol Dhanasupsomboon, who specializes in contract logistics with more than 20 years of industry experience. Toll serves various business sectors, offering warehouse services, trucking transportation and distribution, and offshore & onshore logistics operations. Oil Tex (Thailand), Toll's oil & gas specialist subsidiary, oversees the offshore & onshore services.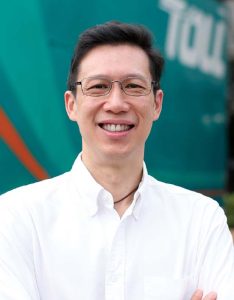 "Toll provides warehouse and logistics services to customers in numerous industries, covering general cargo, oil & gas, heavy haulage, and our biggest specialty—vehicles and parts. We currently provide transportation and distribution services to destinations all over the country. Our fleet, which comprises more than 300 trucks of different sizes and designs, supports a comprehensive range of transportation services that meet the specific needs of our clients. At the same time, our control tower is driven by the latest technology that allows real-time visibility to assure our customers that their cargoes are handled safely, efficiently, and transparently," said Mr. Dhanapol.
Safety is undoubtedly one of Toll's top strategic priorities – not only does the company utilize its control tower to power its Track & Trace feature, but it takes things a step further to ensure security by employing a dedicated team of safety specialists at the tower. The team supports the drivers, offering advice and monitoring operations via CCTV cameras installed in the cockpit with the help of cutting-edge software like telematics to prevent the risk of accidents and damages. Additionally, the software's detailed data aids driver behavior and offers analysis and assessment of their driving, with incentives offered to drivers with good track records. All this is to ensure that the staff goes about their daily work safely while encouraging operational excellence so that we deliver on our promises to our customers.
"Toll views infrastructure investment to meet specific needs of our clients as a basis upon which long-term business relationships are formed. So, for instance, we furnished one of our warehouses with gravity flow racks and equipped our fleet with as many uniquely designed specialized trucks as possible. In addition, our commitment to providing exceptional services and emphasis on punctuality, accuracy, efficiency, and safety add tremendous value to our customers' supply chains. This, I believe, is one of Toll's greatest strengths because a safe and compliant supply chain will deliver consistently." Mr. Dhanapol added.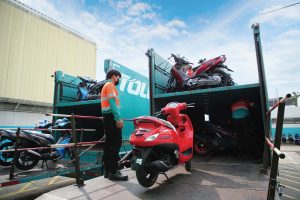 Growing Forward
Amongst the top 10 Asia Pacific contract logistics providers according to Transport Intelligence (Ti), Toll continuously empowers its local management teams as they grow further in Asia. Leveraging on the team's region-specific experience, expertise, and insights, Toll will continue to lead the Asia Pacific forwarding and transportation industry.
Ms. Kanyarad explained, "Communication and coordination between operations and management, and across our service divisions, are clear and efficient. This consequently leads to better services for our customers. As a medium-sized service provider with global presence and local expertise in Thailand, we are large enough to matter, yet small enough to care."
Even though Toll is recognized as one of the world's leading forwarding and transportation companies, it continues to prioritize insights, expertise, and the ability to reach customers in the local market in order to support all of its customers as efficiently as possible.
With an extensive global network and resources to tackle various logistics and supply chain challenges, in addition to the continuous effort to improve service quality and a highly experienced management team, Toll is the provider of choice in the Thai market.
อัพเดตข่าวสารและบทความที่น่าสนใจในอุตสาหกรรมโลจิสติกส์ก่อนใคร ผ่าน Line Official Account @Logistics Mananger เพียงเพิ่มเราเป็นเพื่อน @Logistics Manager หรือคลิกที่นี่