From its humble beginnings in 1988 as a freight forwarder, Profreight has evolved into Thailand's premier integrated logistics powerhouse. Now celebrating its 35th year of success, the company remains dedicated to sustaining its growth for generations to come. With a commitment to providing comprehensive and reliable logistics solutions, Profreight is poised to continue delivering excellence in the transportation, distribution, and supply chain industry.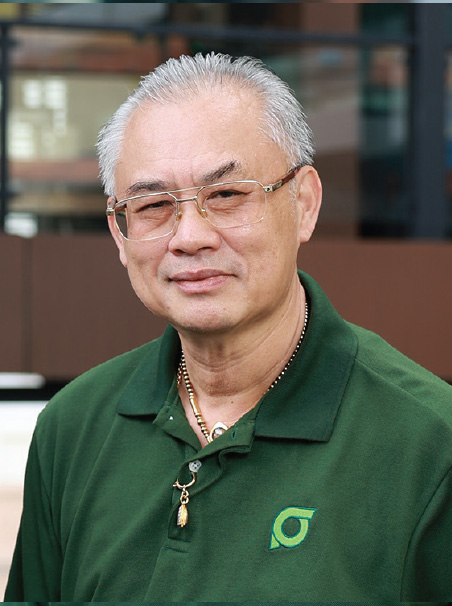 In this edition of LM magazine, we had the privilege of having Mr. Suwit Ratanachinda, the Managing Director, along with Mr. Rasami Asavasangsidhi, Director, Mr. Chanon Asavasangsidhi, Mr. Vorachit Ratanachinda, Ms. Vichita Ratanachinda, and Ms. Nicha Ratanachinda, Management Executives of Profreight. They shared the company's path of success from inception to its 35th year, along with current business guidelines under new, energetic leadership, driving national and international growth.
Journey to Success
Profreight commenced as a clothing-focused freight forwarder, mainly utilizing consolidated (LCL) modes of transportation to serve clothing and general cargo customers.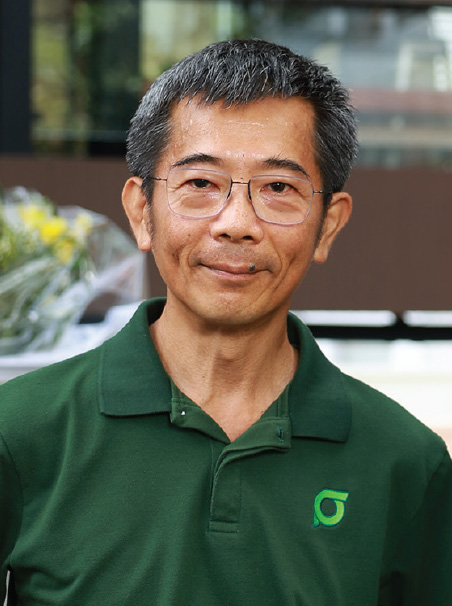 "In our beginnings, Profreight started as a general freight forwarder. As we grew, we expanded our services worldwide through agents and partners, offering LCL consolidation for exports and imports, along with customs clearance. We were eager to expand our customer network, accommodating diverse needs. Later on, we introduced cross-border rail freight to and from Malaysia, and cross-border truck transportation, alongside sea freight. We ventured into other logistics-related businesses, including shipper's agent, customs brokerage, project cargo, warehousing and free zones, and finally serving as an airline agent that achieving our goal of becoming a fully integrated logistics service provider," said Mr. Rasami Asavasangsidhi.
Launching each additional service at different times necessitates a management perspective with a broad vision and in-depth industry knowledge—an essential component in our logistics journey, as explained by Mr. Suwit Ratanachinda. "While professionalism is vital for our services, achieving success requires more than that. It calls for a well-crafted plan, business foresight, and decisive actions. Profreight, once a small local freight forwarder with limited capital, aspired to expand and grow to provide customers with efficient services. We diligently studied industry guidelines and service methods from leading logistics countries like Taiwan, Hong Kong, Japan, the United States, and Europe to do so. We then adapted the knowledge to the Thai environment, selecting elements that drive business success. We focus on adding diverse services that cater to market demands and synergize with our existing operations, fostering mutual growth."
Profreight – Your Logistics Partner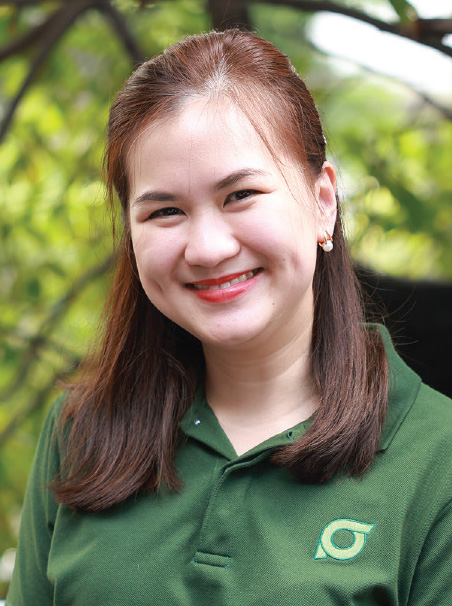 Profreight currently offers comprehensive freight forwarding and logistics services to businesses of all sizes, both locally and internationally. Its veteran expert management, sales, operations, and support teams cater to diverse industries, ensuring understanding and seamless delivery for customers.
"We aspire to become a national company that serves customers globally. Whether you're a small, medium, or large enterprise, a startup, or a B2C transitioning to a B2B, we are committed to partnering with all organizations. Our mission is to support entrepreneurs' businesses in Thailand and beyond." Said Ms. Nicha Ratanachinda.
"As logistics service providers, we understand that our customers' businesses are ever-evolving. To stay relevant, we must be agile and adapt to market trends continuously. As customer requirements change or expand, we strive to offer valuable services that enhance products and boost operational efficiency. We proactively anticipate customer needs and readily provide solutions that support their business development and facilitate smoother, more efficient operations." Mr. Chanon Asavasangsidhi added.
Go Beyond Borders
Profreight operates with a strong emphasis on professionalism and delivering comprehensive services to its customers. The company is fully prepared to support and facilitate clients across a wide spectrum of needs. This principle of commitment is diligently applied across all business units within the organization.
Mr. Chanon Asavasangsidhi said, "As a comprehensive warehousing provider, we offer a one-stop solution covering storage, whole warehouse management, and distribution. Many of our clients are global companies with domestic and international operations. Hence, we focus on developing and supporting standardized models to ensure seamless connections between Thailand and international operations. We integrate and deploy versatile systems to meet diverse needs. Our warehouse goes beyond storage, providing additional services like distribution and various transportation options—rail, cross-border trucking, air, and ocean, including multimodal transportation—offering full support to our clients' businesses. Our goal is to empower them to offer comprehensive services to their customers with ease."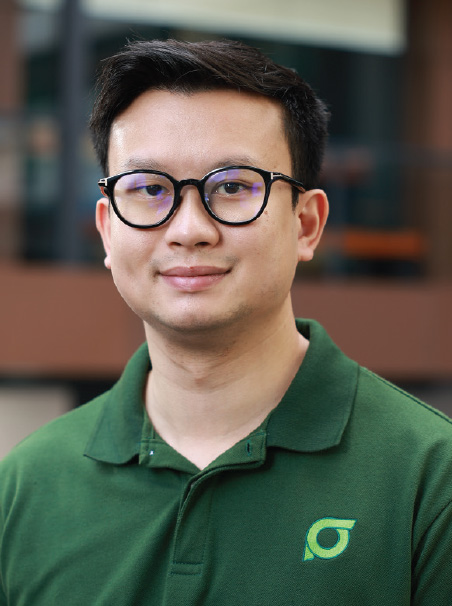 Under the leadership of pioneering executives, Profreight has achieved remarkable success as a freight forwarding and logistics service provider. With a new generation of executives now at the helm, the company remains committed to the incessant development of products and services to cater to the evolving needs of its customers; as Mr. Vorachit Ratanachinda said, "Profreight's success initially revolved around ocean freight forwarding. However, we didn't rest there and continued expanding our transportation modes and service portfolio. The quest for growth and creating business prospects for our clients is constant. We previously provided cross-border delivery services via rail and truck, linking Thailand and Malaysia, achieving great success. Presently, we recognize a promising opportunity to offer rail freight services connecting Southeast Asia to China, Central Asia, and Europe. This opens new avenues for Thai entrepreneurs seeking to engage with international counterparts. Additionally, rail transport's low carbon emissions make it an eco-friendly and efficient choice, aligning with the principles of Green Logistics that we value."
Fly High
Over the last 35 years, Profreight has been steadfast in its pursuit of becoming a comprehensive one-stop freight forwarder and logistics company. Continuously evolving and introducing innovative solutions, the addition of Air Services (Sky Pacific) to provide Airline Agency Services (GSA) was a pivotal step for the company. This milestone has enabled Profreight to offer services in every mode of transport, solidifying its position as a trusted service provider for its diverse range of customers.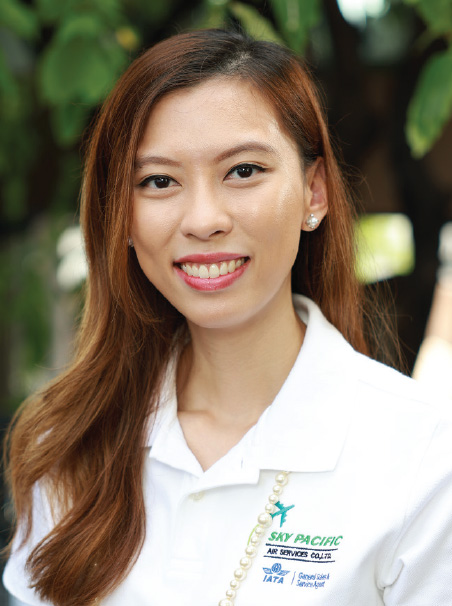 Ms. Vichita Ratanachinda said: "In the air transportation business, we go beyond freight forwarding services. With Sky Pacific Co., Ltd. as the airline representative, we offer comprehensive operations that include passenger services. Our development approach and service goal are centered around 'Serve Local, Act Global.' To Serve Local, we collaborate with freight forwarders and tour operators in Thailand and other countries where we have a presence. Leveraging local knowledge, we ensure efficient service delivery and effective communication with the airlines we represent in Thailand, fostering their growth."
"On the other hand, Act Global involves expanding our domestic and international airlines network and building a robust sales network to cater to customer needs fully. We've recently extended our network to Canada, the United States, Bhutan, and ASEAN countries such as Myanmar, Cambodia, Malaysia, and Vietnam. The plan is to continue expanding our network further in the future."
Digitalization & Innovation
Profreight not only develops service models and pilot logistics solutions to fulfill customer needs but also sets an exemplary standard for logistics services throughout its history. Beyond being a role model in the industry, the company actively contributes to propelling the growth of the Thai logistics business, both directly and indirectly. "We have proudly ushered in new service infrastructure in the past, marking a new era in the transportation business. We introduced innovations like cross-border rail transport and multimodal train-truck solutions, setting industry benchmarks. As time progresses, we continue to seek opportunities for service enhancements, whether through additions or replacements. When we identify potential benefits for our business or the logistics industry as a whole, we eagerly develop and bring those ideas to life without hesitation." Said Mr. Rasami Asavasangsidhi.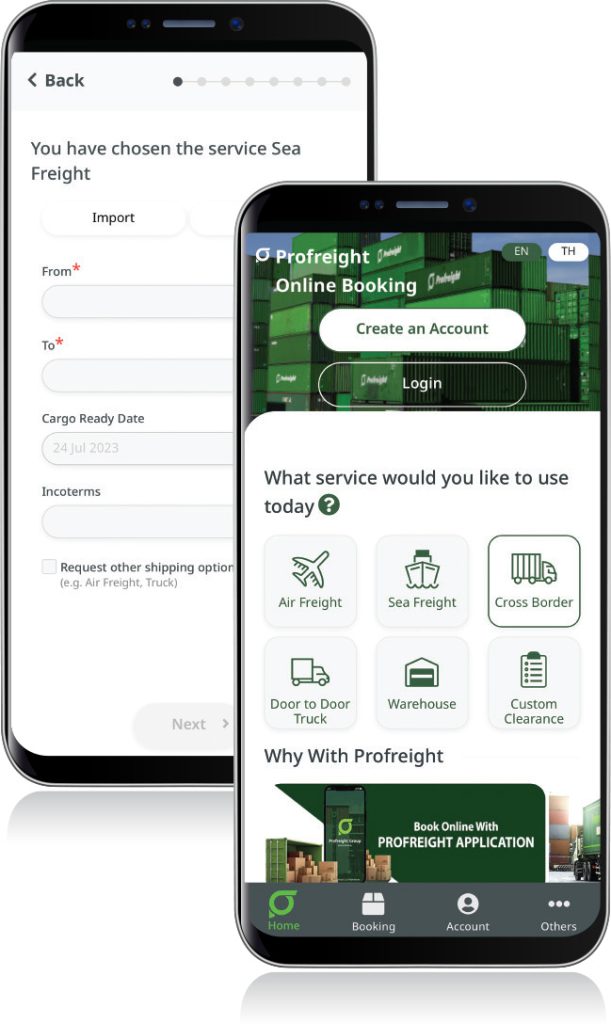 Mr. Suwit Ratanachinda added: "In the past, we actively implemented the eDO system and prepared a user-friendly platform for our partners and industry networks. During the pandemic, this system allowed companies to avoid unnecessary travel to collect documents, reducing the burden and enhancing safety. The eDO system significantly improved accuracy and speed while mitigating the risk of the epidemic. This successful technology initiative is integral to our smart logistics models, driven by various intelligent technologies."
In the logistics industry, face-to-face customer service remains a crucial approach, and Profreight values the expertise of its sales representatives in this regard. However, the company also recognizes the significance of embracing new technologies to enhance customer support. This is evident in the development of the Profreight application, which plays a pivotal role in augmenting its services.
Ms. Nicha Ratanachinda said: "We developed the Profreight application to cater to both offline and online customer segments. This app allows customers to access a wide range of services and connect with us beyond traditional means like email and phone calls. They can check service information, obtain quotes, and communicate with us seamlessly online. This platform ensures faster, more efficient service and responses, leaving our customers impressed and confident in utilizing our services. Furthermore, we anticipate that this application will help expand our customer base in the future, benefiting both our clients and us."
Determination and continuous development have proven pivotal in driving Profreight's remarkable success over the past 35 years. The comprehensive logistics powerhouse firmly believes that these qualities will be instrumental in propelling Profreight to emerge as a leading force in the logistics industry, nationally and internationally.
Thank you for being our logistics partners.

We extend our heartfelt gratitude to our valued customers for entrusting us with their logistics needs and believing in the quality of our services over the past 35 years. Particularly in the last 3-4 years, during the challenging times brought on by the pandemic, when transportation obstacles, delays, and delivery issues arose in various destinations due to lockdowns, our customers continued to put their faith in us. Despite the difficulties many companies face, we take immense pride in being the preferred choice for solutions and services, and we are honored by the trust our customers have placed in us throughout this journey.

In the logistics industry, there are numerous players, but we don't see them as competitors. Instead, we view every company as a potential partner. Profreight takes great pleasure in being a reliable and trusted partner to our customers, agencies, associations, and networks. We extend our gratitude to all parties involved for their successful cooperation, collaboration, and coordination. Together, we make progress and achieve shared success.

We also would like to thank you for all the dedicated employees at Profreight. You are an integral part of our success, and we value each of you just as much as our customers. Your sincerity and commitment to the company are deeply appreciated. I am thrilled to continue working with all of you as we strive for excellence together. Thank you for your unwavering support and dedication.
---
อัพเดตข่าวสารและบทความที่น่าสนใจในอุตสาหกรรมโลจิสติกส์ก่อนใคร ผ่าน Line Official Account @Logistics Mananger เพียงเพิ่มเราเป็นเพื่อน @Logistics Manager หรือคลิกที่นี่