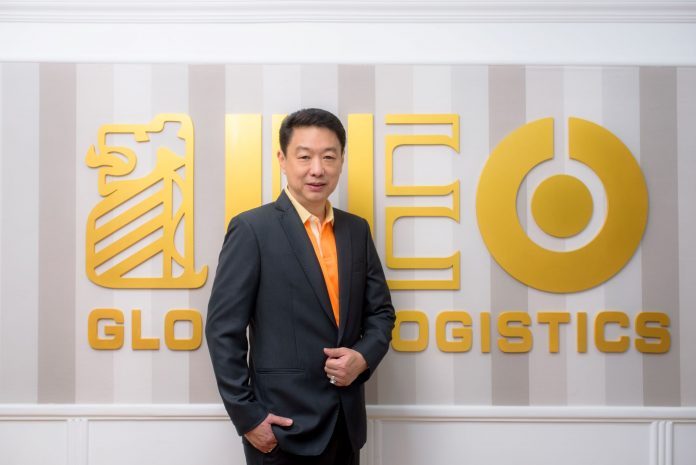 Under the unresolved Covid-19 situation around the globe, the shipping rate is still at its peak while exporters are left to deal with the capacity shortage issue. As the Chief Executive Officer of LEO Global Logistics PCL., I would like to offer some advice to businesses in the logistics industry to adapt and navigate through this global crisis together.      
The way we run business today is very different from the past. Before, ocean carriers typically perceived freight forwarders as uncertain and unreliable entities. However, I believe that notion has been completely changed.
International ocean carriers are now heavily reliant on freight forwarders. Since container vessels today have grown much larger and can transport thousands of containers per week, it became quite challenging for ocean carriers to fill their capacity.
As a solution, ocean carriers decided to manage the capacity for their main customers while freight forwarders are entrusted to manage the rest of the capacity for smaller customers. Ocean carriers' main customers who demand services that ocean carriers cannot provide, such as End-to-End or One-Stop Services, can also rely on freight forwarders. By cooperating in this manner, ocean carriers are now looking at freight forwarders as allies rather than competitors.
To cooperate with ocean carriers, freight forwarders must build their reliability by providing consistent services and never make phantom bookings or cancel your bookings to ocean carriers at the last minute. At the same time, freight forwarders should consider the reliability of ocean carriers that they are doing business with as well.
To build up reliability in customers' eyes, freight forwarders should not be looking for a service from an ocean carrier based on the shipping rate only. Ocean carriers that offer lower shipping rates sometimes have tentative schedules or uncertain capacity. These issues may cause a delay to your customers' shipments and cause damages to customers' businesses.
---
My second suggestion that logistics businesses should consider is that during this time when shipping rates have skyrocketed, business entities must accept the rate and adapt to the situation to maintain their businesses.
Looking at the situation from a business perspective, the shipping industry has faced several challenges. Many ocean carriers have lost profit or even closed down. They have continued to fight and keep offering services to customers worldwide without any complaint through thick and thin. To perceive this matter more clearly, 18 years ago, when LEO was entitled as an agent for an ocean carrier, Sinokor, the shipping rate from Thailand to Busan was at 600 USD per 20 ft container and 900 USD per 40 ft container.
Fast forward to 2019, before the COVID-19 pandemic arrived, shipping rates were at 60 USD per 20 ft. container and 100 USD per 40 ft. container on the same route.
Business entities in Thailand must understand that the container shortage and high shipping rates are global issues. Hence, waiting for the shipping rates to go down is not a solution. Under the New Normal, businesses must readjust their strategies.
Based on the current trend, the longer you wait or hesitate, the higher the shipping rates go. To maintain your market share in the domestic and international market, you must negotiate with your business partners regarding the readjustment of the retail price.
In the situation where most players in the industry are hesitating to export their products due to the high shipping rates, the person who makes the decision first will have the chance to take the international market share before anyone else. Being able to distribute the product under a higher retail price is better than maintaining the same price but not distributing the product anywhere. You must look at this situation as an excellent opportunity to take more share in the international market.
---
Exporters in the CLMV countries (Cambodia, Laos, Myanmar, and Vietnam) and China can adapt to the crisis by turning to alternative transportation modes such as cross border transport via trucks that recently received a demand surge.
---
But keep in mind that whatever the transporting mode may be, whether by vessel, by truck, or by plane, uncontrollable factors always cause uncertainty in the logistics process. For example, there might be issues in the production line; therefore, products cannot be delivered on time. As a result, the booked capacity has to be suddenly canceled. Consequently, the business entity will lose its reliability while the ocean carrier will lose its income.
To maintain your reliability and your business as seamlessly as possible during the current crisis, I would like to humbly suggest businesses first plan the productions ahead and look for various transporting modes, including Multi-Modal Transport. Secondly, businesses must possess a comprehensive collection of contact information of ocean carriers and freight forwarders.
At the same time, it is vital to make a fast decision. You must quickly confirm your shipment once you have successfully booked a capacity. Waiting for the shipping rates to go down is not recommended, for ocean carriers might not wait for you. While you are making a decision, other exporters may seize the opportunity and take your capacity. And again, as a good business partner, if you inevitably have to cancel the capacity, you must inform the ocean carriers as soon as possible.
I would like to remind every Thai business that you are not only competing for containers and cargo capacity with other Thai businesses. You are also in the race against business entities in China and Vietnam who are willing to pay for higher shipping rates than Thailand (even though all mentioned countries have the advantage from being located on the coastal strip on the main global shipping routes, and the shipping rates are usually lower than in Thailand.)
---
Although digitalization and the pandemic have pushed most business entities to communicate via an online platform and rely more on Information Technology, the COVID-19 crisis reaffirms my belief that no matter what happens, the Logistics Platform will never be able to replace the human resource completely. In my perspective, both must be working in tandem.
Information Technology may facilitate us to some degree, but at the end of the day, business is driven by the relationship between people. No matter how low the shipping rates get, you cannot guarantee that you can book capacity 100% without having a relationship with an ocean carrier.
As the Chief Executive Officer, I still frequently visit Managing Directors or Chief Executive Officers of leading ocean carriers partnering with LEO to maintain the relationship. Relationship management in the business ecosystem is the crucial ingredient to maintaining a sustainable business.
---
Finally, as an international freight forwarder, I sincerely hope that these suggestions are valuable and guide you through this global crisis. The Thai logistics industry is one of the driving forces that push the global economy forward during these unpredictable and fluctuating times, so keep pushing or building your business.
---
Kettivit Sittisoontornwong,
Chief Executive Officer of LEO Global Logistics PCL. (LEO)
---
อัพเดตข่าวสารและบทความที่น่าสนใจในอุตสาหกรรมโลจิสติกส์ก่อนใคร ผ่าน Line Official Account @Logistics Mananger เพียงเพิ่มเราเป็นเพื่อน @Logistics Manager หรือคลิกที่นี่