Competition in the logistics industry is continuing to grow fiercer. Service boundaries are getting blurrier as players in the industry are stepping onto each other's toes to get a bigger piece of the pie. On one side, strong logistics operators will always strive to elevate their competitive edges and servicing capabilities by growing more comprehensive and covering more logistics operations. It is undeniable that they are competing to win new clients from industry peers. On the other side, every operator is trying to better serve their clients and respond to the changing needs of a dynamic global trading landscape.
JWD InfoLogistics Public Company Limited (JWD) is a Thai based comprehensive Logistics and Supply chain service provider. Established in 1979, the company was originally providing house and office moving services. Now JWD is among the leading specialized logistics providers and are adept in three key sectors including DG and Chemical Goods, Temperature Controlled Goods and Automobiles. They have also been listed in Thailand's Stock Market – The Stock Exchange of Thailand (SET) in 2015, aiming to raise public funds to expand their operations both domestically and into neighboring countries. JWD is now operating in Thailand, Cambodia, Myanmar, Laos, Indonesia, Taiwan and Vietnam. Their operation in Singapore and Malaysia are conducted via a Korean company, CJ Logistics. They are undergoing a structural upgrade to boost their competitiveness and shift their operations into the international market.
Mr. Charvanin Bunditkitsada, CEO, JWD InfoLogistics Public Company Limited shared with us his long-term vision and aim for FY 2019-2020, including the major purposes of the structural changes. They are projecting changes in warehousing and transportation sectors and preparing for stronger competition from global players, mergers & acquisitions, and influences from technological changes. JWD plans to increase their values through more comprehensive services by providing complete logistics management from upstream to downstream, aiming to become ASEAN's Top operator in Specialized Logistics & Supply Chain Solutions.
Commanding Position
JWD total income of THB 3,208 Million in 2018, was a whopping 32.4% increases from THB 2,423.3 Million in 2017. The net profit was THB 252.1 Million, a 23.3% growth; compared to THB 204.5 Million in 2017. For the year 2019, JWD aims for a 15-20% growth by developing into 'ASEAN's Top Specialized Logistics & Supply Chain Solutions Provider'. Their major strategy is to join forces and build an international network of services with strong partners and concentrate their investments in accordance with the global business landscape.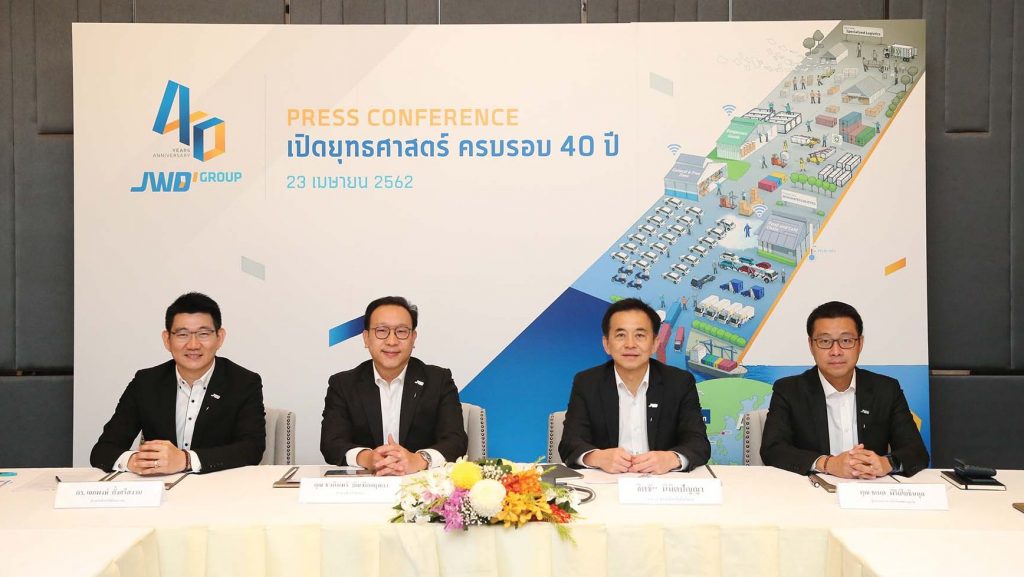 Mr. Bunditkitsada unveiled that for their 40th anniversary, that their strategy is to brace themselves for fiercer competitions and impacts from the digital disruption, which rapidly changed consumer behaviours. JWD's core pillars are concentrating on 4 business sectors as follows:
First, the logistics sector, by expanding their service landscape and providing more comprehensive services for both B2B and B2C clients. Operations and services under this sector include transportation of heavy machinery for EEC projects, e-Commerce transport service, Self-Storage service, and JWD Art Space to preserve and exhibit art pieces for the customers. JWD also plans to expand into logistics infrastructures such as terminal services. They have already initialized rail containerized handling service in Laem Chabang Port.
The next sector is in the Food industry, where JWD will provide solutions for the food supply chain. Beginning from sourcing raw materials, processing and preparing raw materials for cooking (such as chopped vegetables, boiled eggs, baked pastries for Quick Services Restaurants, supermarkets, and convenience stores), product accumulation and distribution, and Import/ Export agency services.
The third sector is in IT, where JWD will utilize modern technologies to develop their businesses. The main purpose is to collect and analyze Business Intelligence data for informed strategic decisions and to predict customers' needs to prepare a prompt response. Innovative business models along the value chain could also be realized by such Business Intelligence.
The investment sector is JWD's last segment, concentrating their capital on logistics real estates and funds. However, should any potent investment opportunity arises, they would also look into them as well. "The new business structure will strengthen our foundation and help to diversify risks for our sustainable growth. Our next direction is to expand into the Food Supply Chain. We shall expand our operations into Asian countries, especially China and Taiwan," Mr. Bunditkitsada said.
JWD chose the food industry as their flagship, due to a strong partnership with CSLF – a leading Taiwanese food supply chain operator. CSFL's 30 years of experience enable them to rapidly expand both in ASEAN and Taiwan by extending and creating added value to their temperature-controlled warehouses across ASEAN. Not to mention that the food industry is on the up in accordance with global trends.
"We call this strategy 'JWD Transformation'. We are transforming from downstream logistics provider services – transport and warehousing services –; where competition is very strong, into a comprehensive solution provider. We offer raw materials sourcing to process and produce products. We also own brands of food products ourselves and look into developing logistics infrastructures, which are considered upstream, both to provide added value and to respond to the clients' needs at the same time."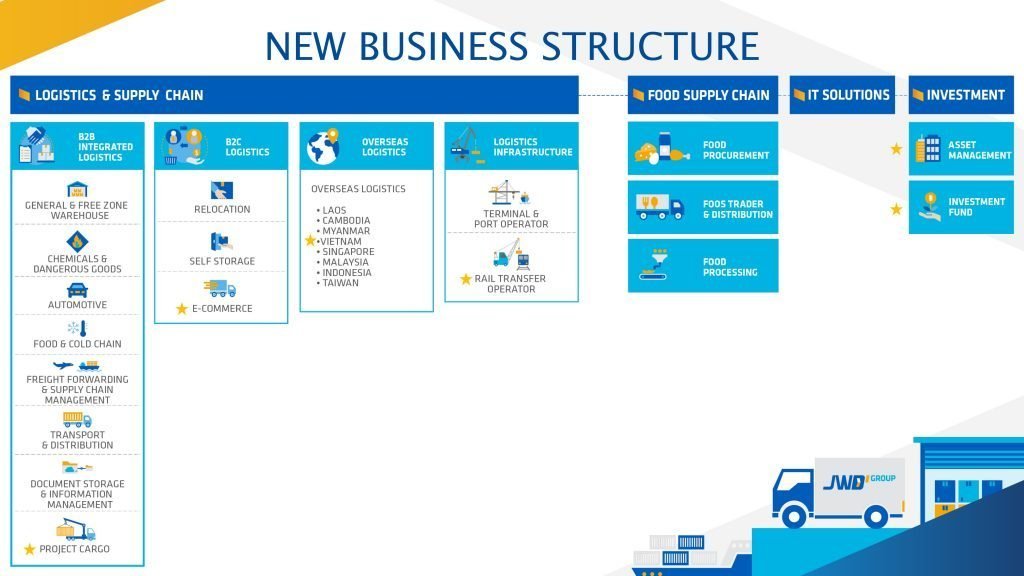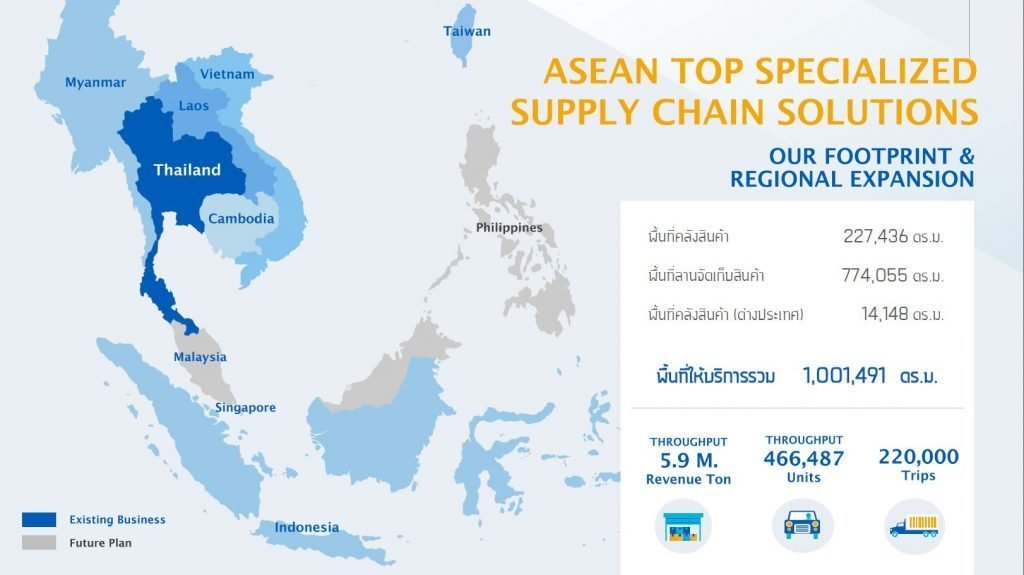 Mr. Bunditkitsada also added the secret recipes for their rapid success is bonding with strong foreign partners such as their joint venture with the South Korean CJ Logistics. The establishment of CJL JWD Logistics looks to better serve the B2B sector, utilizing CJ Logistics' strong network. In B2C, they have also been transforming in-line with the booming e-Commerce market. Such transformation has been underway since mid-2018 and is the reason behind the 32% growth and is why the company is expecting to see better results from this year on.
อัพเดตข่าวสารและบทความที่น่าสนใจในอุตสาหกรรมโลจิสติกส์ก่อนใคร ผ่าน Line Official Account @Logistics Mananger เพียงเพิ่มเราเป็นเพื่อน @Logistics Manager หรือคลิกที่นี่