Sahathai Terminal has launched its – first ever in Thailand – Green Vertical Warehouse, complete with both bonded and free zone facilities. Aiming to provide integrated logistics services with an emphasis on environmentally friendly design, the warehouse focuses on the needs of importers looking for sustainable supply chain solutions in Bangkok. As Thailand's first multistorey warehouse and distribution centre, the building features a full scope of storage options, including temperature-controlled and general cargo areas.
Thanks to its location on the Chao Phraya River, Sahathai Terminal can offer eco-friendly barge services and has proximity to the heart of Bangkok. Over the years, the company has continuously improved its capabilities, creating value for customers through cost and time-efficient solutions. This new warehouse and distribution centre is an essential step in expanding the scope of Sahathai Terminal's services in the logistics business to meet the needs of customers who import consumer goods, medical supplies, cosmetics, and beverages from Europe, the United States, and other regions in Asia. The new establishment will also increase the speed of distributing and delivering cargo, so consumers in Bangkok and its surrounding areas will receive their products faster.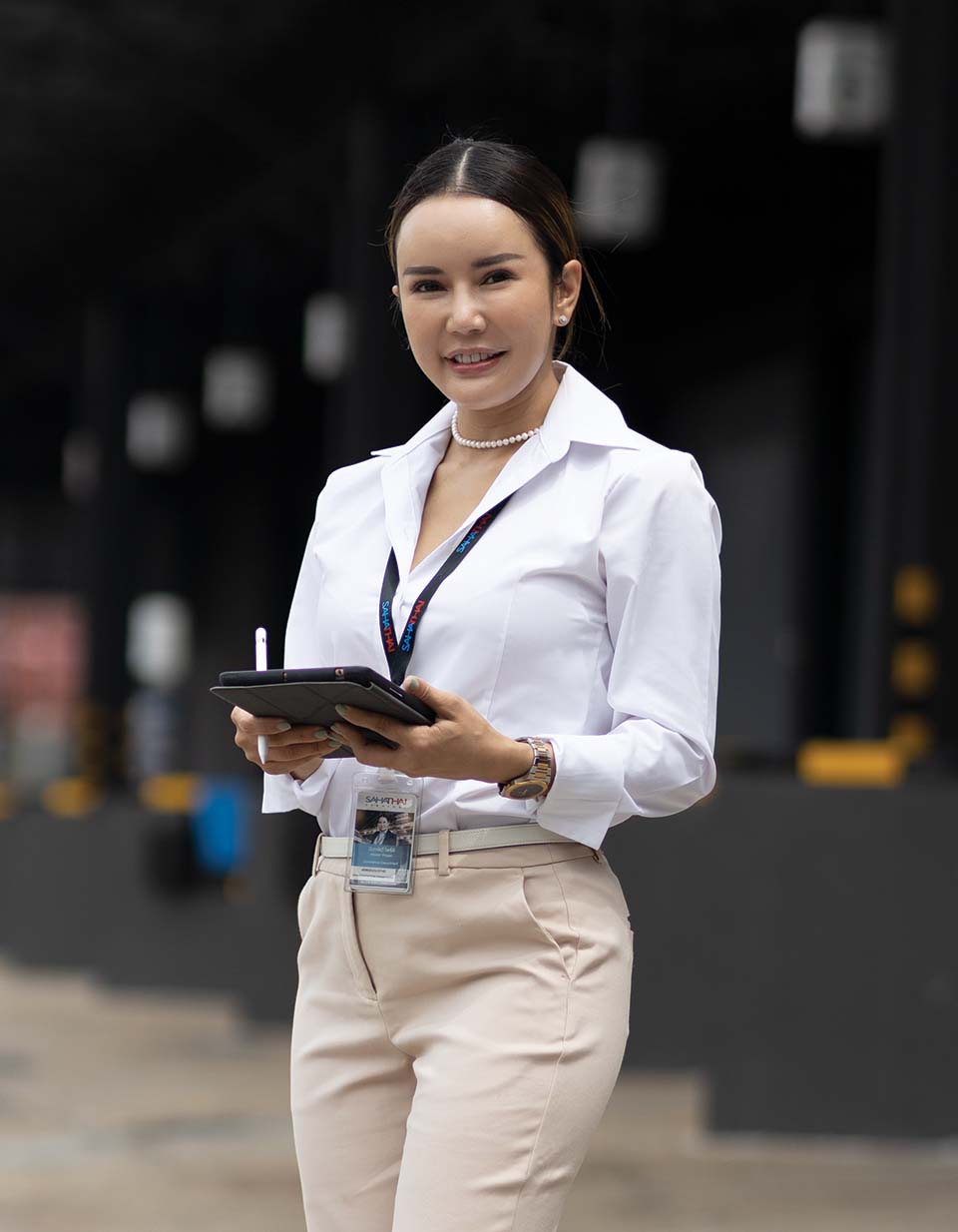 In this issue of LM magazine, we had the opportunity to talk with Ms. Minrawi Phodee, Deputy Chief Commercial Officer, Sahathai Terminal Public Company Limited, about the original ideas behind the warehouse and distribution centre, along with the strengths and benefits that the new facility will offer to customers and entrepreneurs.
Ms Phodee said, "We saw the potential in the strategic location of Sahathai Terminal. Our warehouse can quickly serve customers in Bangkok and its vicinity, especially importers. Therefore, the executives decided to develop a vertical building project. A general multistorey warehouse building was turned into a warehouse facility that provides both bonded and free zone warehousing services to create the most benefits for importers in the Bangkok metropolitan area."
Realizing The Environment
Typically, warehouses that cater to Bangkok-bound goods are located on the city's outskirts in places such as Samut Prakan and Samut Sakhon. This is because building a regular-sized and regular-designed warehouse requires a lot of space, and in the city, high land values make building such large complexes impractical.
As these warehouses are outside the city, it increases the journey for delivery trucks travelling downtown, emitting more carbon. Plus, more often than not, the truck returns to the warehouse empty, known as redundant transportation, further exacerbating the negative environmental impact.
Seeing an opportunity to create greener logistics solutions, Sahathai Terminal conducted a feasibility study to determine if developing an old warehouse building could work to create more sustainable services. When studying the development of the new warehouse facility, the company took examples from significant transport and logistics hubs like Singapore and Hong Kong since both share the characteristics of having a small surface area but are full of high-potential industries. Under the constraints of space limitation, developers in these zones tend to build up instead of out. 
Ms Phodee explained, "We are committed to developing private terminal services on the Chao Phraya River, including coastal barge transportation services from Laem Chabang Port to the Bangkok area. Our goal is to meet customers' needs better. At the same time, we recognize the importance of green logistics, which means choosing a transportation service that emits the least environmental pollution. In addition, our warehouse is in an area close to the city, which means faster deliveries, shorter transport distances and less fuel consumption. This strength not only improves the efficiency of the customer's supply chain but is also another important step towards environmental sustainability."
Green Logistics
Custom duties benefits are among the most critical factors for the new warehouse's target customers. "After we presented this development project to the Thai Customs Department, they agreed and shared the same vision and potential," said Ms Phodee. "We intend to offer both bonded and free zone services to provide novel logistics solutions, as well as to promote the growth of the trade industry and the economy of Thailand".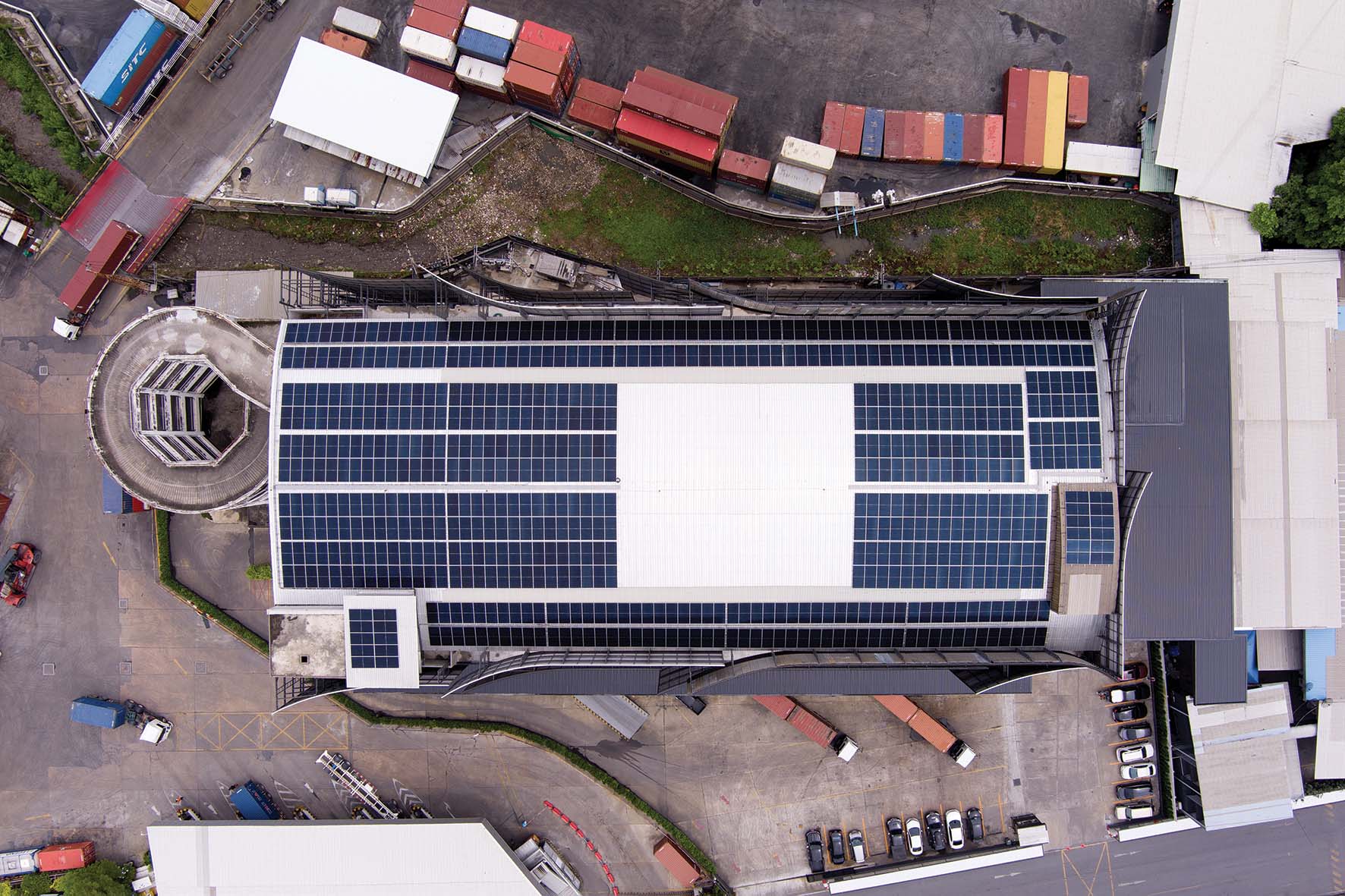 The new warehouse and distribution centre has five floors with ​​2,880 square meters of floor space. The 1st and 2nd floors are bonded warehouses, and the 3rd and 4th floors offer free zone storage. In addition to the customs duty privileges, importers or customers are provided cold storage that can accommodate many types of products on top of general ambient storage, meaning this facility can fully meet all customers' needs.
Integrated Logistics
In developing this new facility, Sahathai Terminal has considered the business potential and environmental sustainability. In addition to the strategic location that can help streamline deliveries and reduce carbon dioxide emissions, photovoltaic panels are installed on the warehouse's roof. Using solar energy as renewable energy for the building will significantly mitigate grid line electricity consumption.
"One of Sahathai Terminal's core businesses is to provide terminal services, which are gateways for importing and exporting products from leading manufacturing and trading markets worldwide. This is especially true for consumer goods from China, Taiwan, Japan, Korea, Europe, and the U.S. The newly developed facility will directly complement and expand the scope of integrated logistics services of Sahathai Terminal," concluded Ms. Phodee.
With over a decade of operational experience and determination to grow as a leading terminal operator on the Chao Phraya Riverbank, Sahathai Terminal continues to invest in creating logistics and supply chain solutions that meet the exact needs of business customers—aiming to become one of the leaders in fully integrated logistics services, and promoting green logistics for the sustainable future of the next generation.
---
อัพเดตข่าวสารและบทความที่น่าสนใจในอุตสาหกรรมโลจิสติกส์ก่อนใคร ผ่าน Line Official Account @Logistics Mananger เพียงเพิ่มเราเป็นเพื่อน @Logistics Manager หรือคลิกที่นี่