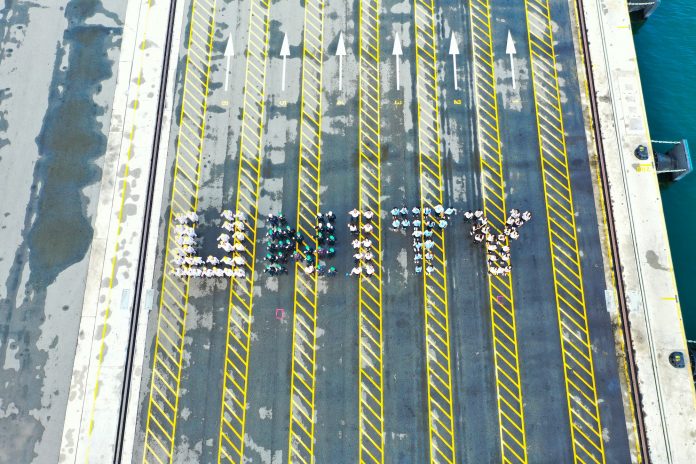 During this period of economic flux, many organizations across several industries have been forced to adjust to the sudden change by downsizing. However, contrary to the global trend, Hutchison Ports have fearlessly risen above the tide and steadily grown their operations from their concrete foundation, with strong support from their united workforce.
Currently, Hutchison Ports operate 52 terminals in 27 countries around the globe, with a diverse workforce who come from different cultures, speaking multiple languages, with different experiences and attitudes. Over 1,300 staff work at Hutchison Ports Thailand (HPT) with different backgrounds, accents, and cultures. While the port celebrates the diversity of its workers, efforts have also been made to give the workforce something that unites them as a group.
To unite their people as one, the company core values called 'UNITY' have been integrated into the backbone of Hutchison Ports around the world. "I believe Hutchison Ports has succeeded in embedding the universal core values to all workers throughout the whole company. As a result, customers and stakeholders receive top quality services, and this also allows us to steadily grow as a unique organism in the ports and terminals industry," said Mr. Thanakrit Prasontawong, Manager of Corporate Affairs for HPT.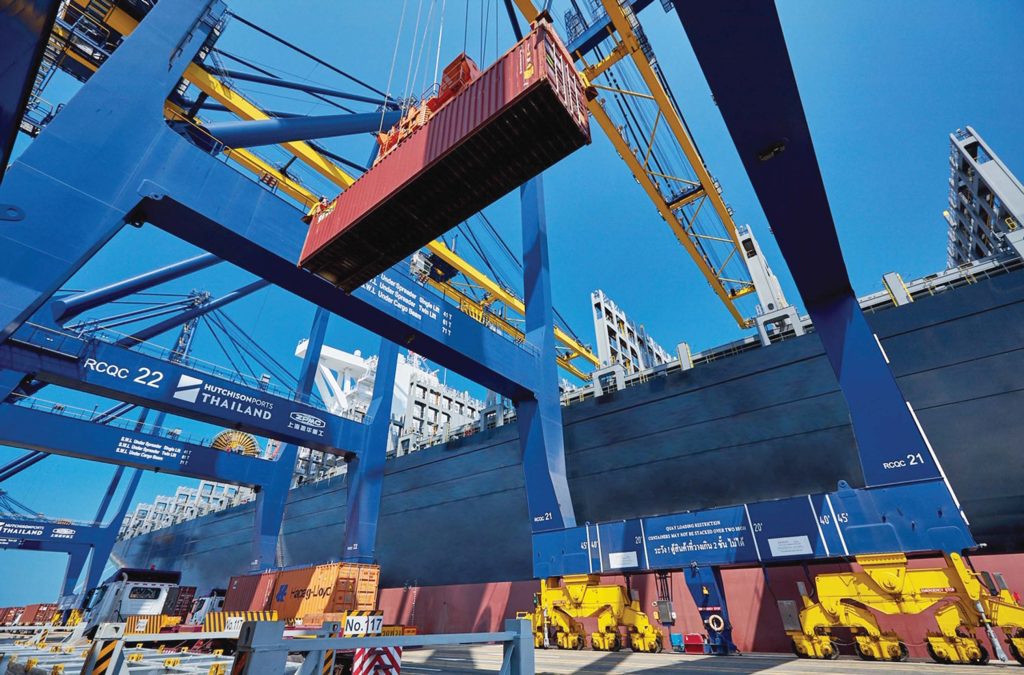 The Origin
In the past, Hutchison Ports were among Hutchison Port Holdings Limited (HPH)'s businesses, such as Hutchison Telecom; a communication business, HUSKY; an energy business in Canada, and Watson's Department Store; a retail business.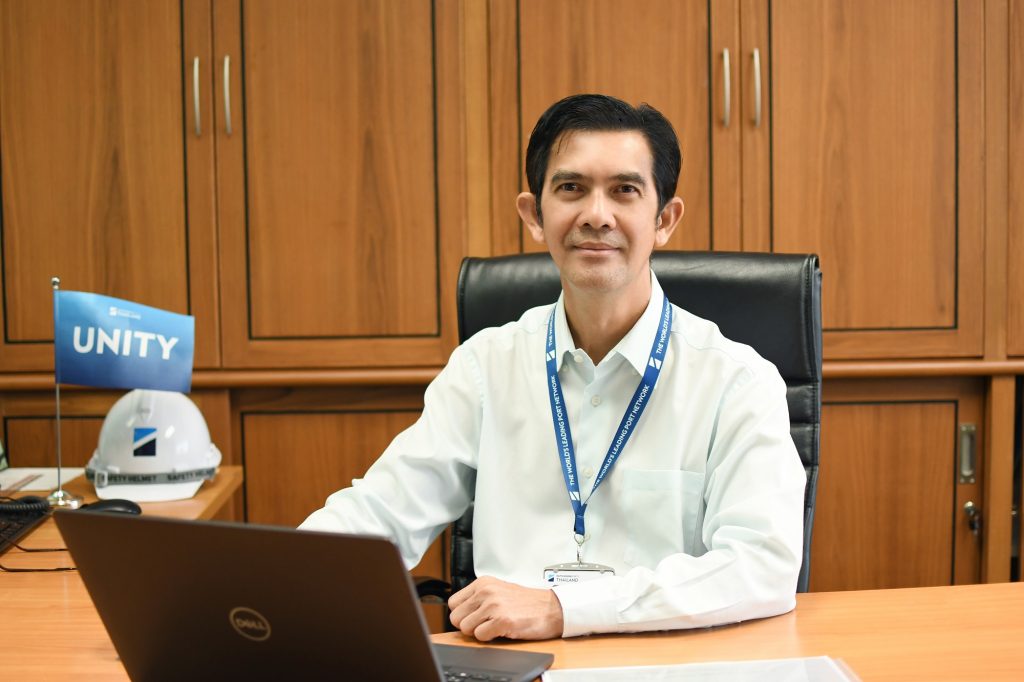 Later, the company started an idea to consolidate all of their businesses under one massive network, to optimize operations for each business, and to answer to customers' demands. Mr. Eric Ip, Managing Director of Hutchison Ports, started a company rebranding campaign as 'the global terminal network' with the 'UNITY' core values.
Part of such rebranding, which commenced on September 24th, 2016, was creating a new company logo with an inspiring meaning. "The light blue on the logo represents the vast sky, and the deep blue represents the boundless ocean, while the white represents the horizon. Together, the logo reflects the unified sky, ocean, and horizon, hinting that Hutchison Ports shall steadily march towards success, where the sky meets the ocean," explained Mr. Prasontawong.
Following the new image, HPT drove ahead as a unified entity on November 1st, 2017. They have divided the UNITY initiative into three phases, from 2018 to 2020. The company built up the awareness of the core values with the first phase; 'Understand and Trust,' which started in 2018 and finished in 2019.
"During the first phase, Mr. Stephen Ashworth, Managing Director of Thailand & South East Asia for Hutchison Ports, officially launched the core values. We've introduced UNITY to our staff through brochures and several activities, such as a special meeting where the Change Agents presented the meaning of unity from their perspectives. Plus we held a photo contest, a special talk show, and went on a study visit at PTT Public Company Limited to learn the company culture strategy. We've also tested and evaluated our staff for the acknowledgment of UNITY core values during the fall of 2018," explained Mr. Prasontawong.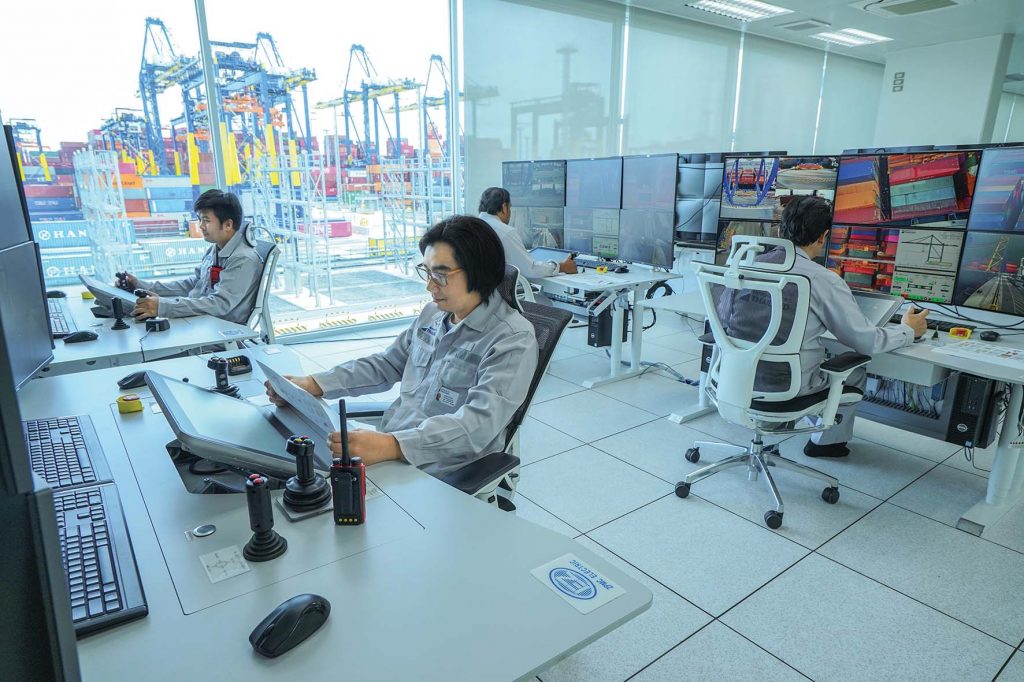 "In the first half of 2019, we have had study visits at Charoen Pokphand Group (CP) and Philip Morris (Thailand) Limited. We also arranged an additional test and evaluation for the UNITY awareness by the Change Agents," he continued.
During the second half of 2019, HPT took a step forward to the second phase of the UNITY initiative, called 'Accept and Adopt.' Throughout this period, HPT strengthened the awareness of the core values by inviting a special guest speaker to discuss cross-cultural communication and to help HPT with a better understanding of the true meaning behind the word 'unity.' Also, the company held a short video competition under the title of 'How to reflect unity through everyday work?', as well as encouraging staff to share their work experiences that would be aligned with the UNITY principle through a short video contest. The second phase ended with another core values awareness test and evaluation in the fall of 2019.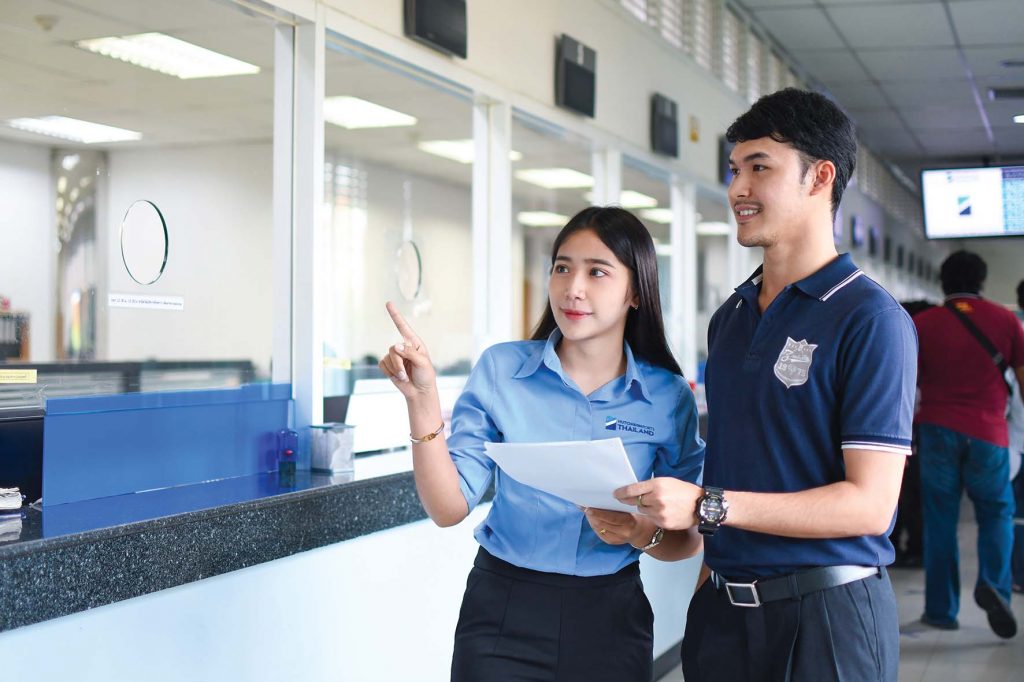 "The test results show that all of our staff already accept and subconsciously apply the UNITY core values to their everyday work. This year, we have reached the final phase called 'Commit and Inspire,' which aims at providing our customers with a substantial promise, while inspiring our staff to keep pursuing higher working standards, together as one," said Mr. Prasontawong.
The UNITY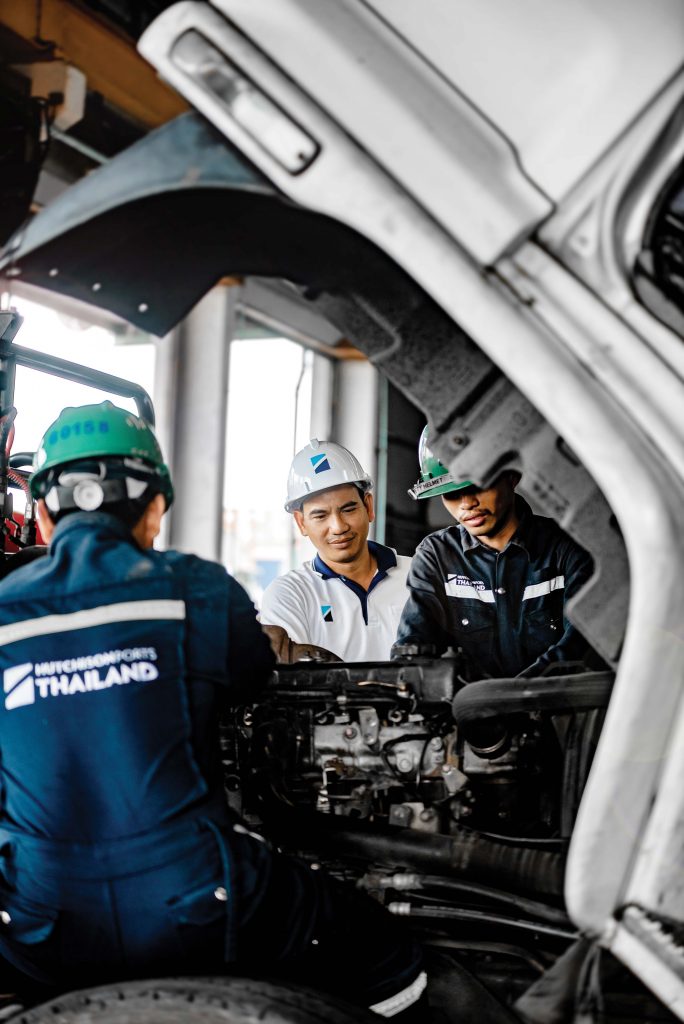 Each letter within the word UNITY represents a profound meaning. The first letter; 'U,' means 'Unrivalled Standards.' When HPT set a company goal, the workers search for a path to success together and target the next destination after each accomplishment. To offer supreme services to customers, the company encourage their workforce to be innovative, bold, and original.
The 'N' represents 'Network Strength.' "We are determined to lead our organization to the ultimate goalthrough working and harmonizing with open hearts. We inspire our personnel to be open to any comments and ideas while respecting other people's decisions and experiences. By restricting oneself under an outdated working mindset, one will find it hard to develop further or improve and will not be able to handle complex challenges," explained Mr. Prasontawong.
"Therefore, by building a strong network among workers, the problem, as mentioned earlier, will be eliminated. We give our staff opportunities to exchange information and share work experience, not just within their department, but throughout every department across the company. Affectively, they will be more cooperative and open to help each other," he continued.
The Next letter is 'I' which represents 'Informed Decisions.' Hutchison Ports encourage their staff to pay attention to every detail while improving themselves by continually learning new things.
'T' represents 'Trusted and Honest.' Hutchison Ports staff are working as professionals with honesty, high ethics, and responsibility with one common goal; to drive the company forward with all of their abilities.
The last letter is 'Y', which represents 'Your Partners.' Hutchison Ports inspire their people to prioritize customers as their top responsibility while having compassion and sincerely offer assistance to others.
Eyes on the Horizon
Surrounded by diversity, fluctuation, and endless transition, Hutchison Ports are steadily driving forward on the path to success as a united entity, while harmonizing, nurturing, and of course reinforcing their stable foundations. While the future might be uncertain, HPT is always ready to handle and adjust to any form of challenges.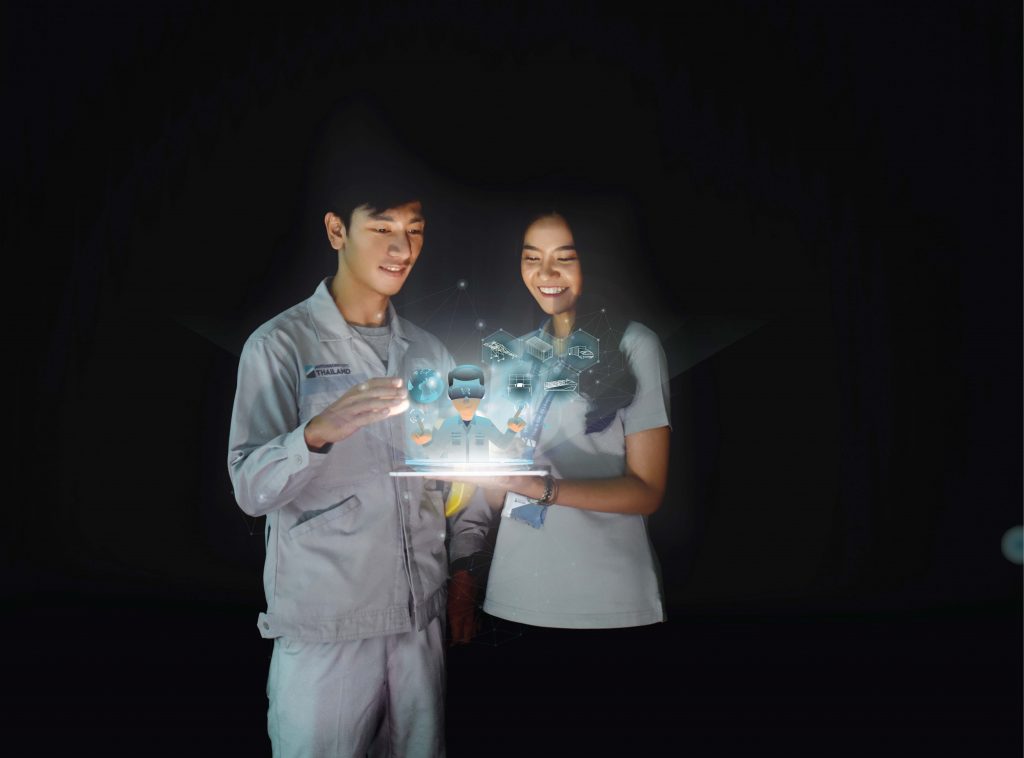 "We operate as a global terminal network. To become the leader of the ports and terminals industry, every worker must abide by the same core values. UNITY best describes our methods for attaining solidarity within our organization," said Mr. Prasontawong.
"UNITY also represents the harmony of the core values. As a unified organization, we strive to elevate our standards while continually pioneering within the industry with the latest inventions. We are looking forward to voyage beyond our expectations, as we provide unmatched services to every customer," he promised.
อัพเดตข่าวสารและบทความที่น่าสนใจในอุตสาหกรรมโลจิสติกส์ก่อนใคร ผ่าน Line Official Account @Logistics Mananger เพียงเพิ่มเราเป็นเพื่อน @Logistics Manager หรือคลิกที่นี่