K Line (Thailand) has launched a new website that is modern, beautiful, and easy to use, reflecting the organization's outstanding services and showcasing its readiness for business development in the digital era as it prepares to enter its seventh decade of solid business operations in Thailand.
Kawasaki Kisen Kaisha, Ltd. (K Line) is one of the world's leading ocean carriers and logistics providers. For over 80 years, K Line has played a significant role in developing Thailand's logistics industry, opening its first agency office in the country in 1942 and then opening its official office in Thailand in 1964. Since then, it has operated continuously under the name K Line (Thailand) or KTL until the present.
In 2018, "K" Line, Mitsui O.S.K. Lines (MOL), and Nippon Yusen Kabushiki Kaisha (NYK) successfully merged their container shipping services under the name Ocean Network Express (ONE), which caused K Line Thailand to have a reduced role in the container ship business. However, although no container shipping business exists under K Line (Thailand), the company still has other businesses, including affiliated companies related to the logistics industry, such as the truck transport business, warehouse business, etc.
For this reason, K Line (Thailand) cooperated with Lentus, a leader in content development and producer of Logistics Manager (LM) magazine, to create the new website, www.kline.co.th. Its purpose is to serve as a platform for presenting accurate, comprehensive, and visually appealing information about the group's businesses in three languages: English, Thai, and Japanese. The new website design can also display perfectly on all devices thanks to its responsive design.
Lentus' team jointly worked with K Line (Thailand) at every stage to understand all of K Line (Thailand)'s business and expand high-quality content and website functionality tailored to meet its customers' needs.
In this issue of LM, we will walk you through the concept behind the website development for K Line (Thailand) and explore features on the revamped version of the website.
First Impression
The homepage is essential to a company website and should reflect the brand image as clearly as possible. Therefore, K Line (Thailand)'s homepage features a well-designed, simple, easy-to-read, and user-friendly website layout. These elements are carefully crafted to ensure that first-time visitors do not experience confusion while using the website. Its design of modern, simplified, and functional web pages effectively conveys the organization's values and the company's objectives.
The menu is positioned at the top of the webpage, grouping various pieces of information and functions orderly. It also clearly organizes categories that are easy to understand and convenient to use. The webpage is also equipped with language change buttons to accommodate multiple users.
About Us
The first menu is About Us, providing general information about the K Line (Thailand), such as its corporate history, corporate philosophy, corporate principles and vision, message from the executives, and company policy.
Services
Next is the Services menu. Within this menu, you will find information about all K Line (Thailand) services, including total logistics solutions (a single-window portal to all of the services and solutions offered by "K" Line's global network), freight forwarding and transportation, RoRo, customer brokerage and documentation, maritime services, warehousing and distribution, and machine installation services.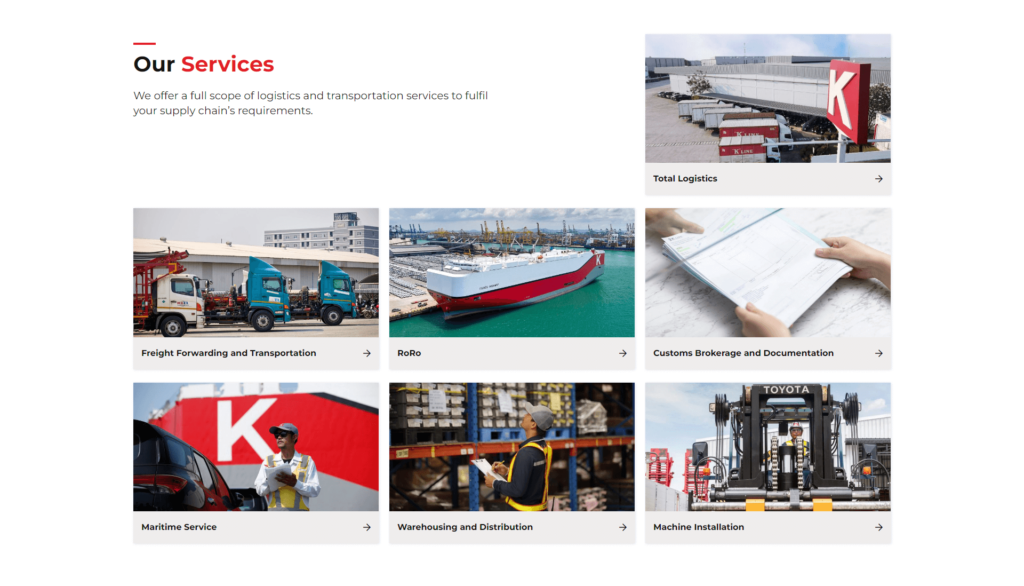 Network
Next is the Network menu, which provides information about K Line (Thailand)'s subsidiaries, comprising six companies: Bangkok Marine Enterprises (BME), K Line Container Service (Thailand) Ltd. (KCST), Bangkok Cold Storage Service, Ltd. (BCS), "K" Line Logistics (Thailand) Ltd., C.T.S. Corporation Ltd, and Century Distribution Systems.

Within the menu, users can access information about K Line (Thailand)'s subsidiaries company, including service types, office locations, photo galleries, and contact information.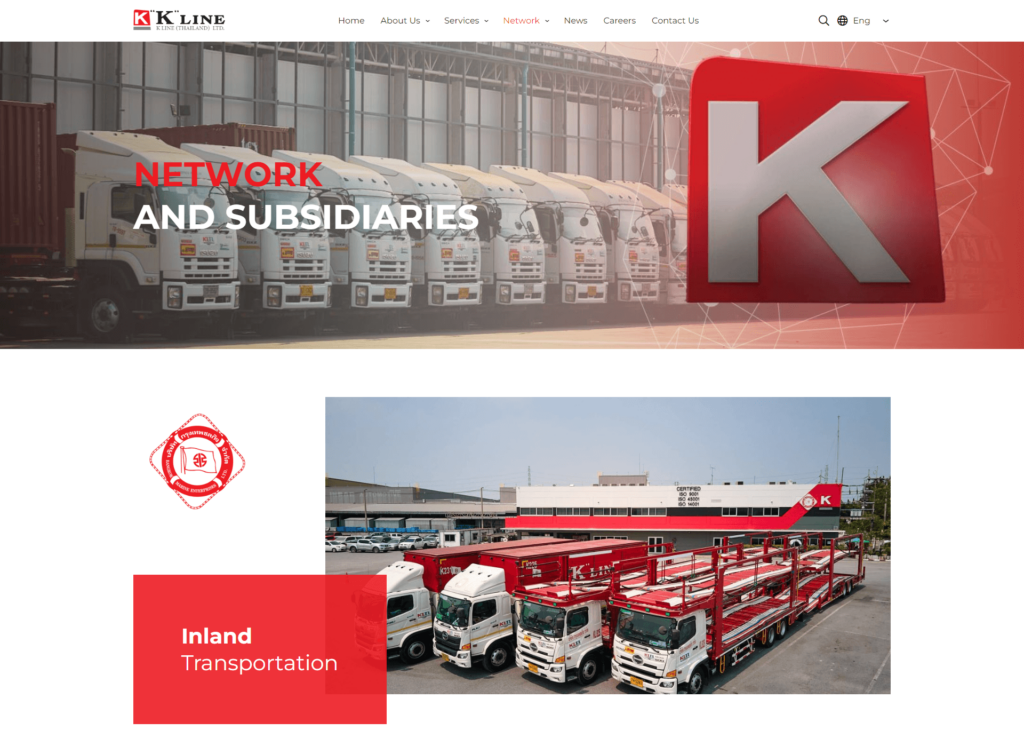 Users can click the black Contact Us button at the bottom of the webpage to request further information from any company.

News
To follow the news or press releases from K Line (Thailand), you can click on the News menu to ensure that you do not miss any interesting articles, the latest news or announcements from the company.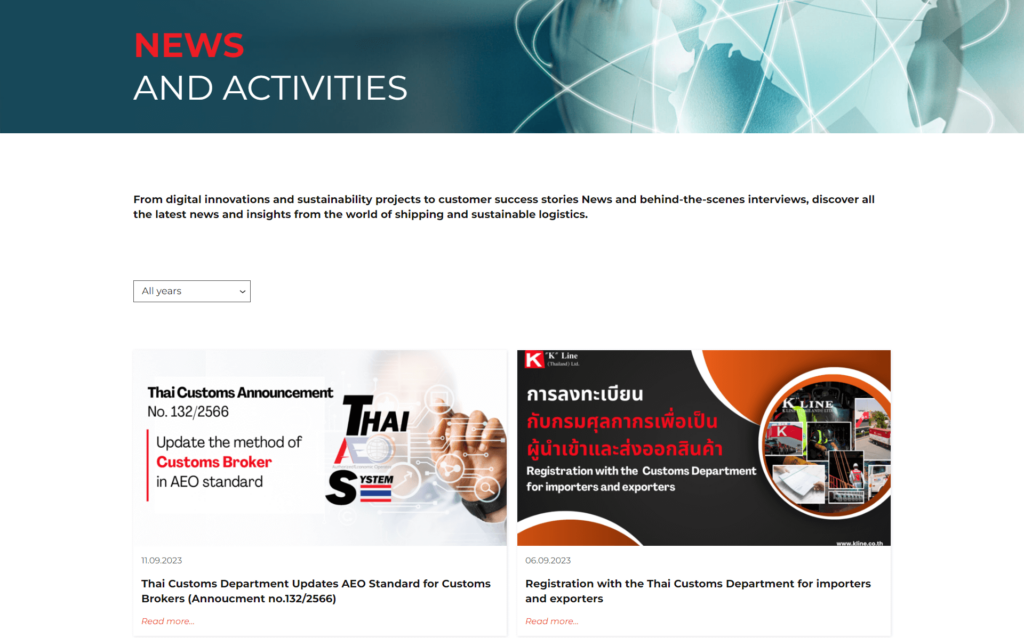 Careers
For the Careers menu, K Line (Thailand) gathers information on job positions for which the company is currently accepting applications. Qualifications and job details are described here on this page, and candidates are instructed to click the Apply Now button to complete the form and upload their resume directly to the HR department.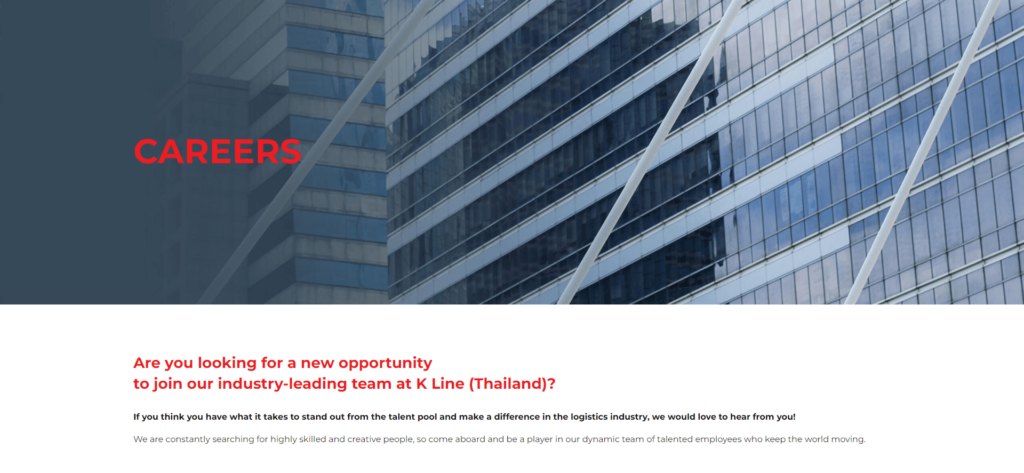 Contact Us
The Contact Us menu allows users to fill out an inquiry form, make suggestions, or report the matter they want immediately.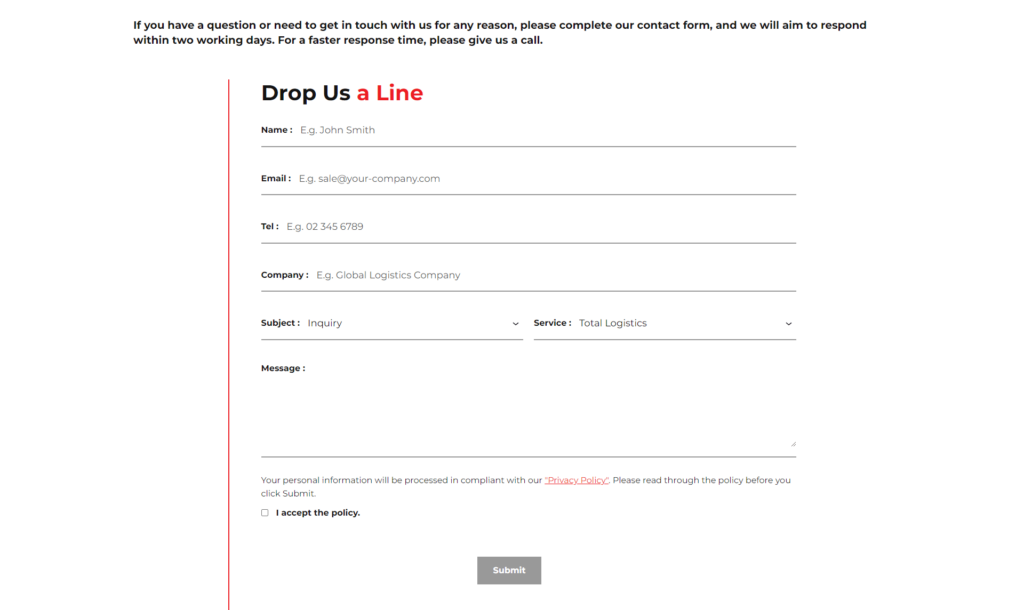 K Line (Thailand) has laid the foundation for its seventh decade by launching a new, modern website with comprehensive content and making a stronger digital presence by developing a new image in the digital world. Finally, Lentus is honored to have earned the trust of K Line (Thailand) in developing this new website. We are genuinely delighted to be a part of K Line (Thailand) and its subsidiaries' stable and sustainable journey into their seventh decade in Thailand.
Visit K Line (Thailand) 's new website at www.kline.co.th
---
อัพเดตข่าวสารและบทความที่น่าสนใจในอุตสาหกรรมโลจิสติกส์ก่อนใคร ผ่าน Line Official Account @Logistics Mananger เพียงเพิ่มเราเป็นเพื่อน @Logistics Manager หรือคลิกที่นี่