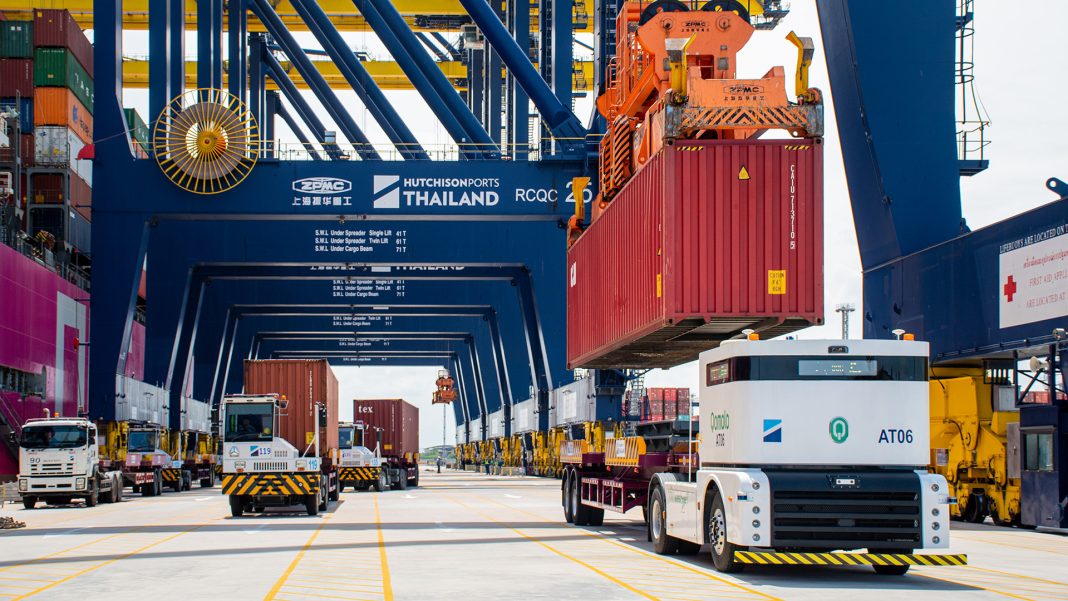 While steadily maintaining its terminal operations throughout the COVID pandemic over the last two years, Hutchison Ports Thailand (HPT) has remained committed to the safety and wellbeing of its staff and customers above all else.
With container handling equipment operating around the clock loading and unloading containers, terminals already present a relatively hazardous work environment without adding a virus to the equation. Yet, when faced with managing these safety issues, HPT has managed to stay on top of the complex challenges set before it and has even managed to come out of the situation more robust and better equipped than before.
After steering the company through the pandemic, Mr. Stephen Ashworth, Managing Director of Thailand and South East Asia for Hutchison Ports, took time to speak to LM about the policies and new equipment that the company has integrated to ensure the utmost safety for everyone involved at its site. He also enlightened us on how some of the latest environmentally friendly technology HPT has introduced will help lower the terminal operator's carbon footprint, which goes hand-in-hand with its sustainability initiatives.
Safety is Hutchison Ports Thailand's Top Priority
With much of HPT's terminal operations requiring essential workers to be on-site and operate port equipment, it has been paramount to safeguard these frontline staff members against infection. These tasks, which are vital to keeping the supply chain moving, include operating conventional gantry cranes, reach stackers, forklifts, etc., and cannot be done from home.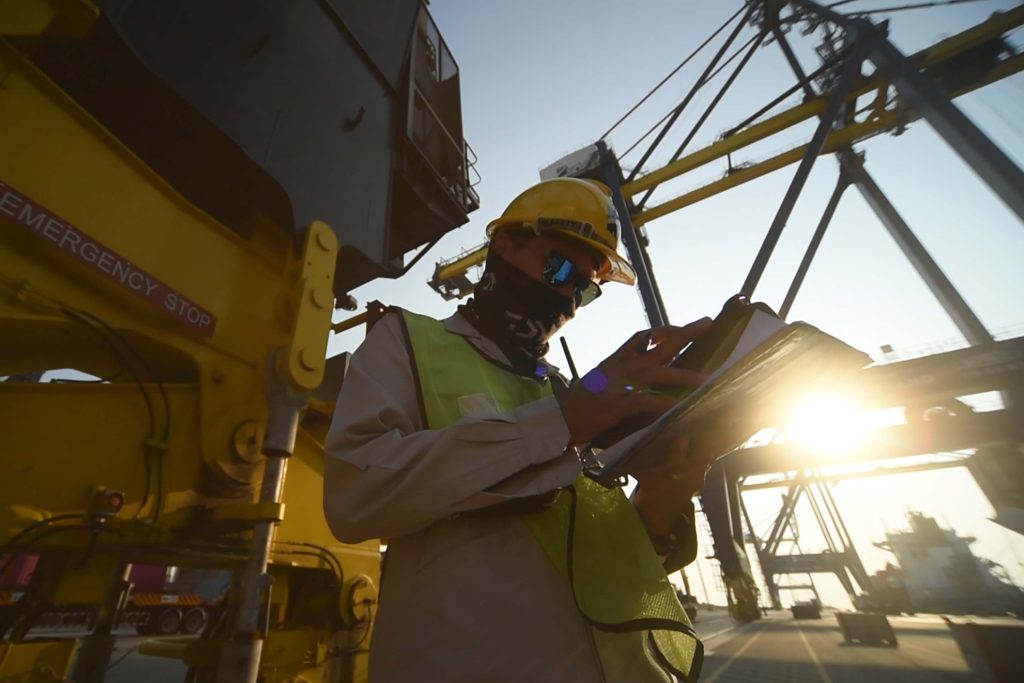 "To guarantee the highest standards of safety for our key workers, we strictly followed the guidelines set forth by the Thai Government and Port Authority of Thailand and introduced necessary precautions at our site such as wearing masks at all times, temperature monitoring, and social distancing," said Mr. Ashworth. "Of course, where possible, we had staff who carry out administrative jobs working from home and connecting with us via video conference, but with many people still coming to work at our terminals on a daily basis, we were very conscious about following all the preventative measures," he continued.
Another precaution taken by HPT was to restrict the amount of contact its staff had with the crews of vessels that docked at its terminals. With vessels constantly moving in and out of Laem Chabang Port, restricting the level of person-to-person interaction was crucial to curbing the spread of the virus.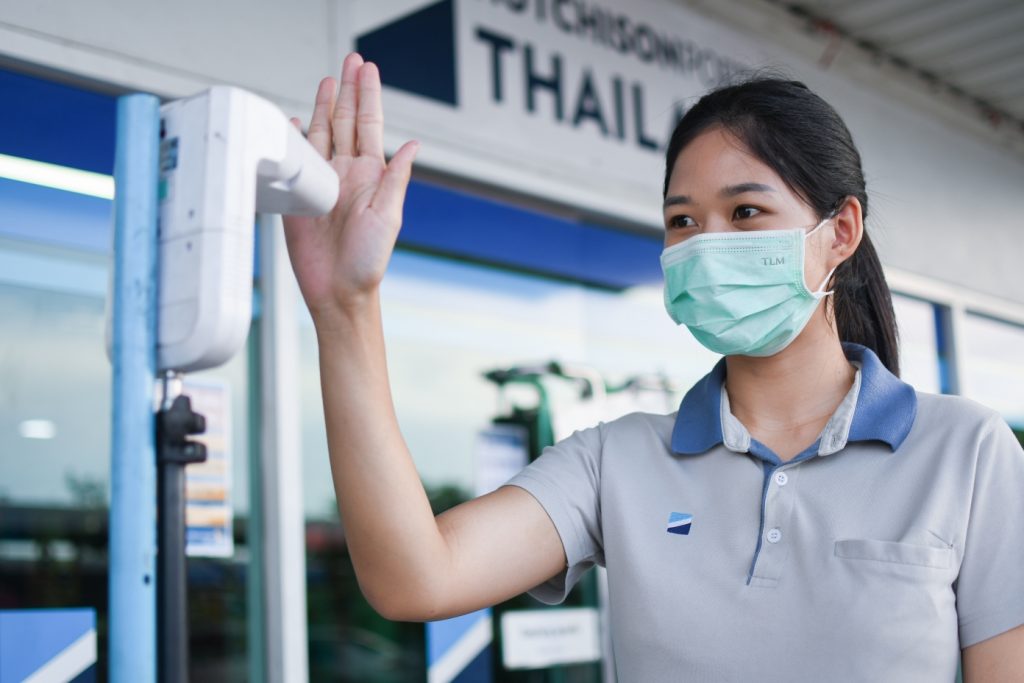 If we look to ports in countries like China and Indonesia, it's evident to see that COVID caused supply chain disruptions after much of the workforce at those facilities contracted the virus. This helped to create serious problems for the global supply chain, with a ripple effect on to the US, where hundreds of container vessels lined up for weeks waiting to unload cargo. On top of this, shortages of truckers, rail capacity, and warehousing caused further distribution problems and meant that end consumers began to see shortages of goods on shelves.
Yet, all the while, Thailand did not experience these issues directly, meaning Thailand's ports were able to remain open and mostly uncongested, and terminal operators like HPT were able to keep Thailand's access to the export markets relatively open and accessible. There were, of course, shortages of equipment such as containers, but that was mainly due to supply chain bottlenecks elsewhere. With the Thai economy on its heels, largely thanks to a lack of tourism, the only real bright side for the nation over the past two years has been its exports, mainly thanks to the professional job carried out by its ports, terminals, and other logistics service providers.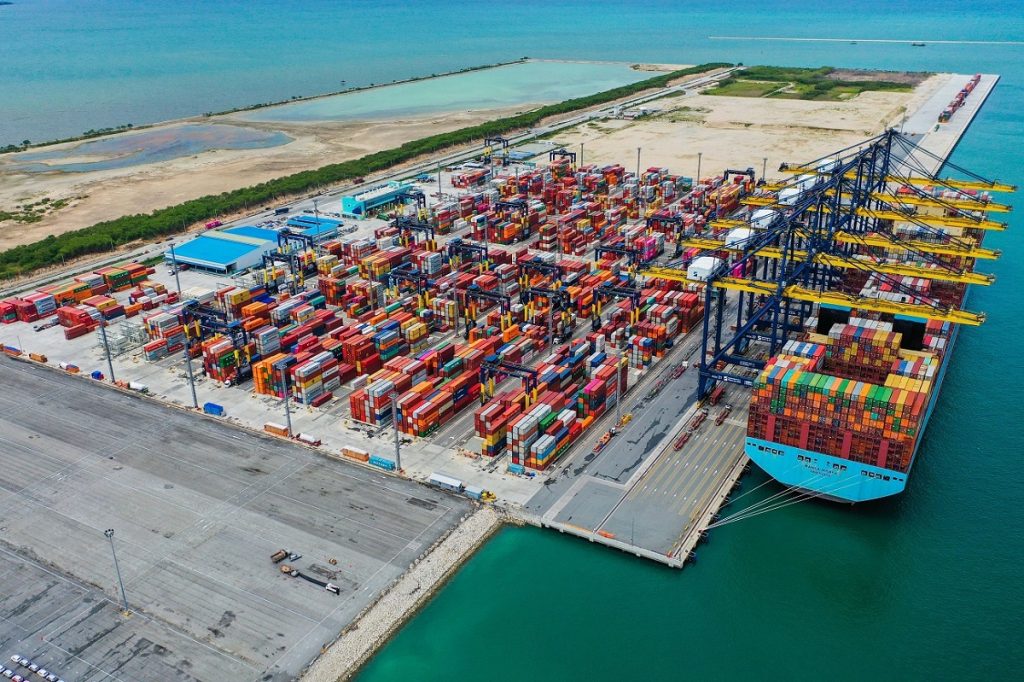 New Technology improves Wellbeing of Staff and the Environment
As mentioned, ports can be a dangerous place to work, and traditionally ports were a place that required a workforce with the physical ability to load and unload cargo or tie up ships with heavy ropes when they berth at the quayside. However, nowadays, physicality is no longer as relevant terminal operators like HPT begins to implement new technology, removing the need to work in close quarters with the port handling equipment, thus reducing the likelihood of accidents occurring.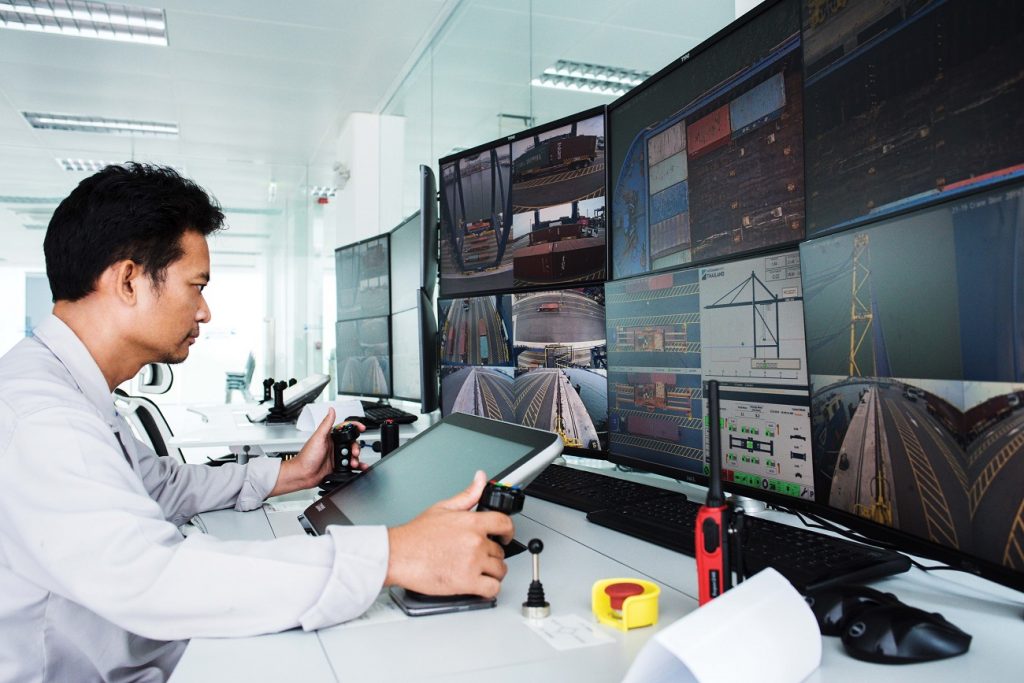 "Here at Hutchison Ports Thailand, we are committed to moving towards the electrification of our terminals and contributing to a cleaner environment inside and around the Laem Chabang Port through the reduction of Scope 1 carbon emissions. Thus, we are proud to introduce our new range of modern port equipment, which creates a safer working environment for the staff at our terminal and lessens the burden on the local ecosystem. Our newly installed remote-control ship-to-shore cranes and remote-control rubber-tyred yard cranes at Terminal D, our flagship terminal, are fully electric and showcase our ability to be the leading technology and innovation terminal in Thailand. Such technology will allow our staff to operate the cranes safely from a control room, without the need to physically access the crane cabin," explained Mr. Ashworth.
"Further to our technological advancements, we have also deployed six autonomous self-driving trucks which are electrically powered. These trucks are now fully operational and have so far moved in excess of 40,000 containers within the Terminal D yard. Plus, next year, we will receive a fleet of 9 more autonomous trucks and 9 electric trucks which will operate with the existing conventional trucks. This means that Terminal D is the first dual-mode terminal in the world for internal truck operations to move containers around the terminal, which, when combined with our other fully-electric port equipment, will dramatically lower our carbon emissions," he added.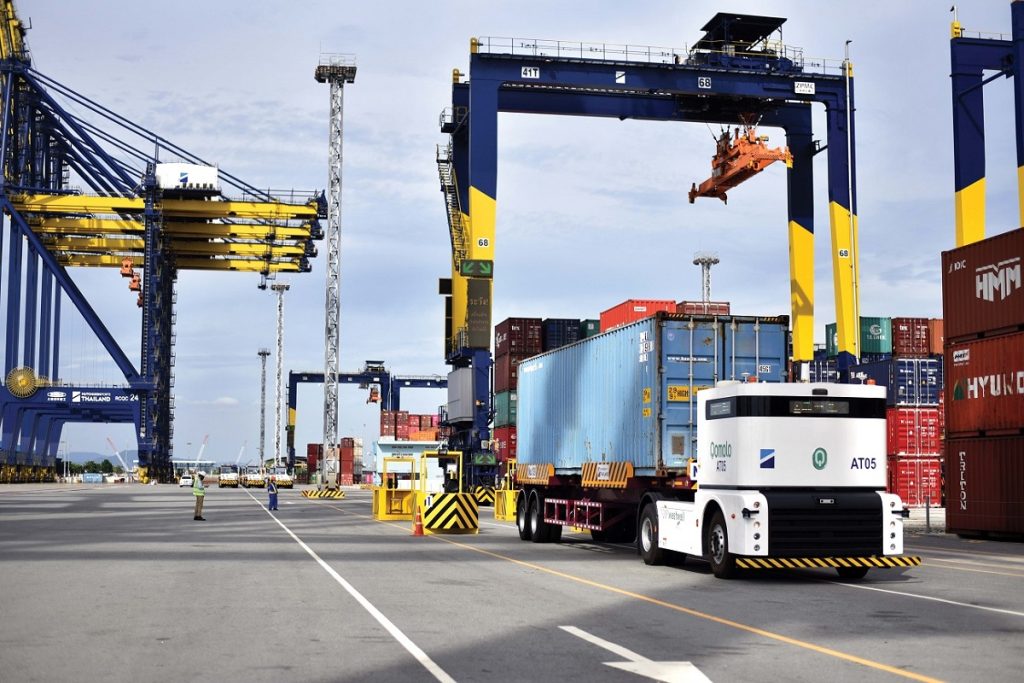 In addition to leading-edge hardware technology, HPT is moving rapidly with its digitalisation efforts by enrolling in the cargo release program from the Global Business Shipping Network (GSBN). Cargo release offers a paperless, highly efficient, and transparent solution connecting everyone involved at the port of import, including shipping lines, consignees, their agents, and terminals, according to GSBN.
Moreover, HPT has pledged to further help protect the environment to conserve electricity by turning switches off during non-operating hours, conserving water supplies, eliminating the usage of plastic bags and foam boxes, reducing paper usage, segregating waste, and planting more trees to create more green areas around the port as a means of offsetting carbon emissions.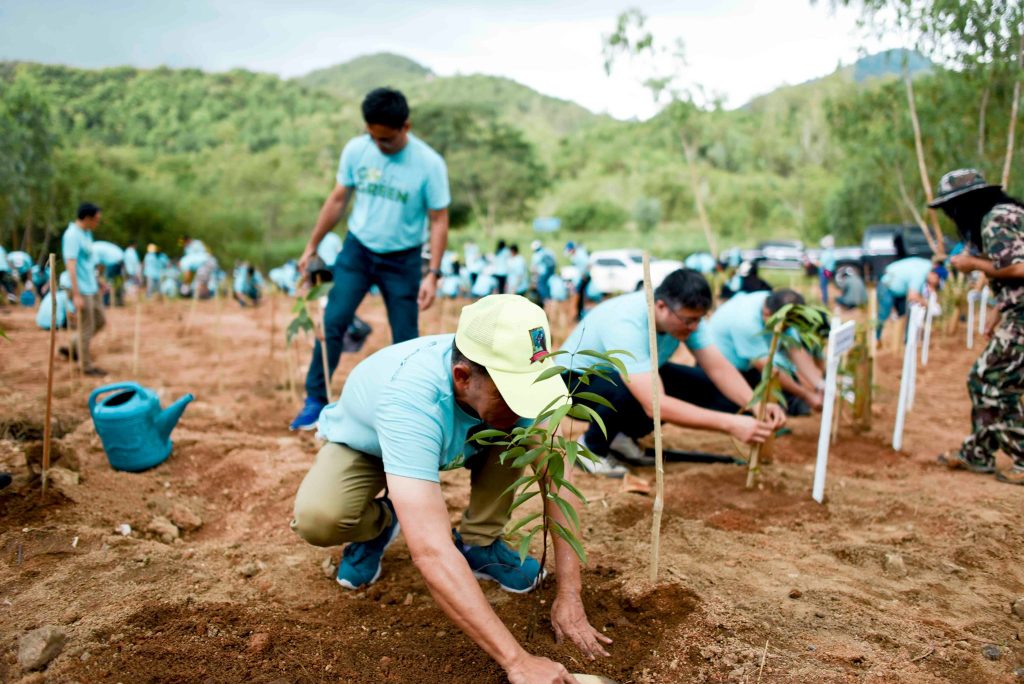 A "green port" is a port model or concept that aims to harmonise the relationship between economic and sustainable development. The idea requires efficient organisation and leadership, coherent policies and procedures, innovative thinking, and a management philosophy that embraces energy efficiency and environmental protection.
Mr. Ashworth noted, "To be considered as a "green port", terminal operators must meet internationally recognised criteria and standards for port management and sustainable development. The main objective is to minimise adverse environmental impacts and reduce the overall carbon footprint in the area surrounding a port. In this regard, I'm proud to say that we at HPT, especially at our Terminal D facility, have taken many steps to advance our port operations into a more efficient and sustainable future. In fact, Terminal D has recently been awarded the ISO 14001 accreditation for high standards of environmental management."
High-tech and High-touch
With all its leading technology – remote-control and autonomous port equipment, electrification, and digitisation – HPT does not view this advancement as an end in itself and remains committed to its people above all else. Additionally, while the terminal operator sees the great importance of advancing its hardware for the betterment of the environment, it has not forgotten about its people or the importance of a customer-centric culture.
"As an integral part of the supply chain, we aim to keep our doors open and to keep trade moving for the benefit of the local economy. By putting all our efforts into ensuring that our terminals continue to operate normally, and that includes all our employees, we have continued to maintain the highest service standards for our customers and port users" concluded Mr. Ashworth.
---
อัพเดตข่าวสารและบทความที่น่าสนใจในอุตสาหกรรมโลจิสติกส์ก่อนใคร ผ่าน Line Official Account @Logistics Mananger เพียงเพิ่มเราเป็นเพื่อน @Logistics Manager หรือคลิกที่นี่