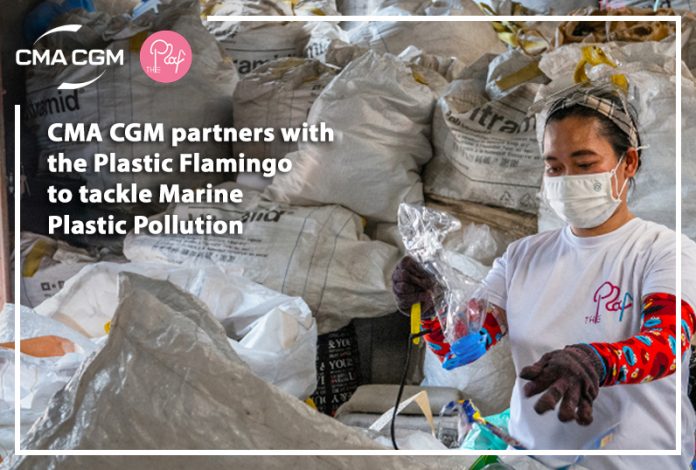 The CMA CGM Group, a world leader in shipping and logistics, has partnered with social enterprise The Plastic Flamingo (The PLAF) to scale up the collection of plastic waste and tackle marine plastic pollution in the Philippines. Together, CMA CGM and the PLAF will collect 120 metric tons of plastic waste to be upcycled in Metro Manila within a year.
Stéphane Courquin, Chief Executive Officer CMA CGM Asia Pacific Ltd, said, "CMA CGM Group's partnership with the PLAF serves as an immediate solution to mitigating marine plastic pollution. We are stopping sea-bound plastics from piling up as waste in rivers and oceans through plastic collection for upcycling. Importantly, we embrace the PLAF's circular economy approach that involves a large local community as eco-actors in plastic gathering, empowers a women workforce and transforms used plastics into eco-materials for transitional shelters while reducing plastic waste."
To meet the plastic collection target, the PLAF will further strengthen its network of plastic collection points such as shops, schools, villages, offices and drop-off points where the public can easily drop used plastics. In particular, it will build partnerships with junk shops to deploy a sustainable programme encompassing incentives, education and engagements for a long-term plastic waste reduction.
CMA CGM employees based in Metro Manila will also join the fight against plastic waste pollution as they deposit plastics in collection containers placed within the CMA CGM office and provide them to PLAF for upcycling.
CMA CGM supports a new upcycling line for single-serving plastic packaging to build emergency shelters
2.7 million metric tons of plastic waste are generated in the Philippines each year, with about 20 per cent ending up in the ocean. One of the most significant waste issues is posed by the almost impossible-to-recycle single-serving plastic packaging. Therefore, the CMA CGM Group supports PLAF to create a new recycling line to upcycle sachets at the PLAF's upcycling factory in Muntinlupa.
Francois Lesage, Founder of the PLAF, said, "With CMA CGM's support, the PLAF is now able to more than double our annual collection of plastics. We will not only bring more junk shops onboard but also actively engage their waste pickers so that they see the value in picking up sachets for upcycling at our facility."
The PLAF transforms collected plastics into products such as eco-planks and eco-posts at the factory. These upcycled products are typically acquired by NGOs and entities that build transitional shelters out of them to assist disaster-struck or vulnerable communities.
Besides creating value from used sachets collected by waste pickers, the new recycling line also enables the PLAF to diversify into more product variants such as eco-panels. This enables the PLAF to keep plastic upcycling commercially sustainable for its social and environmental purposes.
Committed to its course, the PLAF is recruiting more women in its workforce to turn plastic waste into construction materials for transitional shelters.
CMA CGM acting for Planet and fighting against plastic pollution
The CMA CGM Group has always considered its economic performance as being inseparable from its social and environmental performance. It aims to build a more efficient, resilient and sustainable global trade. This ambition is embodied by BETTER WAYS, the Group's new signature. Furthermore, the CMA CGM Group is committed to achieving carbon neutrality by 2050. It has made the pioneering choice of liquefied natural gas (LNG), which today represents the best solution for preserving air quality and also provides an initial response in the fight against global warming. The Group is also multiplying its actions to protect the oceans and biodiversity through projects to restore fragile marine ecosystems and is actively involved in the fight against plastic pollution, notably through a recent partnership with the earth wake project, which aims to transform plastic waste into a source of energy.
Partner of the World Conservation Congress, which defined an international framework to halt biodiversity loss by 2030, CMA CGM will offset 100% of carbon emissions from the organization of the Congress. It was held in Marseille, France, from September 3 to 11, 2021.
อัพเดตข่าวสารและบทความที่น่าสนใจในอุตสาหกรรมโลจิสติกส์ก่อนใคร ผ่าน Line Official Account @Logistics Mananger เพียงเพิ่มเราเป็นเพื่อน @Logistics Manager หรือคลิกที่นี่